Thursday, December 30
Months of preparation are done. We have visas for Kenya and Tanzania, vaccines for the tropical diseases we might encounter there, pills against malaria, diarrhea and altitude sickness. Andrew has negotiated with the touring company and paid them. Yi has booked our airline tickets. Pu has booked us into a hotel. Peter has done the legwork for the visas. Caroline has investigated safari options and the possibility of going to Zanzibar. I have let it all happen and I'm along for the ride.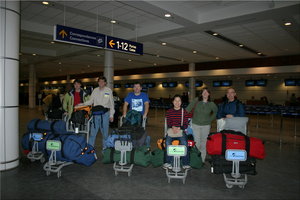 All set to go at the airport


We have new digital cameras, and nifty digital voice recorders to aid our memories.

Two large duffel bags are packed, as always. I have kept an obsessively detailed list of everything I am taking, so as not to forget anything. This is the biggest trip I've ever gone on, and I want to do it right.

Andrew shows up at noon to pick me up. Pu is picked up next, and we all meet at Andrew's house. We will drive to Montreal in his and Peter's cars, with Ewart and Peter's wife Martha driving the cars back.

No sooner at the airport, than there is a panic: Peter doesn't have his passport. Frantic phone calls are made - there is still time for the passport to be found and rushed to Montreal before our flight departs. But then he finds it in his jacket pocket. I'm thinking now we've had our glitch for this mission (no apologies to the Apollo 13 movie).

We have come early, so we sit around for several hours before our flight departs at 7:40pm.

British Airways takes pretty good care of its customers, and the food and service on the Boeing 777 plane are good. I watch a dumb movie on my personal video screen before sleeping for an hour or so.
---
Next / Table of Contents / All in one page / Outdoor & Travel Page / Markus's Home Page