Friday, January 14
We have to eat breakfast early and make an efficient getaway, because we are over 300km from Arusha Airport, on mostly bad roads, and our flight leaves at 3:30pm. We go with Robinson. Pu and Vinh go with Issa, and they intend to go slower and do some more animal watching on the way. We later hear over the 2-way radio that their adventures included getting stuck in the mud, and later a speeding ticket.

We reach the airport by about 2pm. From the highway to the terminal building, the road is a dusty dirt road as bumpy as they come, and I notice that the runway is unfenced on one side so any goat could wander onto it.

We say goodbye to our driver Robinson, and I slip him the tip from our group and also give him a big bag full of Gatorade, granola bars, pens, pencils and so on, to distribute to others as he sees fit. I particularly stress that my Petzl Tikka Plus headlamp is for Luckas, who guided us up the mountain with the dimmest of flashlights, and was so helpful to me when altitude sickness overcame me (back in Ottawa I will promptly buy a new Tikka Plus, of course).

The terminal building is small and simple. Bags are carried by hand (we are each dinged around $20 for overweight baggage; nobody had mentioned the 20kg limit) and boarding passes are handwritten. There is a single baggage screening machine, which is used both for checked luggage and for carry-on stuff.

The airplane is a clean, modern ATR-42 twin turboprop. The staff are crisply uniformed, the service is good; the "Precision Airlines" name seems deserved (this is our first experience with an African airline). The pilot announces that the takeoff will be bumpy, since the last part of the runway is unpaved due to construction, but not to worry, the plane is built for rough field operation.

During the flight, I am skimming a Zanzibar guidebook that I borrowed from a woman named Diane who is also on the flight. I know nothing about Zanzibar, and I'm a bit worried that the others want to stay at some beach hotel 10km out of town, when exploring the town itself is plainly where it's at. I use my digital camera to make legible copies of some map pages and a list of affordable in-town hotels. Andrew and Caroline peer out the windows on the left side, hoping for a glimpse of Kilimanjaro, but our flight path goes almost directly away from it so nothing is seen.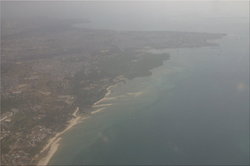 Hazy view of Zanzibar Town from the air


The plane banks in over Zanzibar Town, and I, who am on the right side, get a good view of the peninsula where the old "Stone Town" is. As we touch down, I see that the woods along the runway are mostly palm trees. A wall of humid heat hits us when we emerge from the plane. This is the furthest south I've ever been, and I'm not disappointed.

The airport is quiet, and soon we are the only ones left in the arrival hall. Everyone except Yi and myself obtains U.S. cash at a money change counter where they take credit cards, but charge a 6% commission plus a $2 service charge (I assume I can do better in town. This will turn out to be wrong). I try to find out again why we are going to this Imani Beach Villa instead of to a cheaper and more central place in town. Andrew doesn't mention that this was no arbitrary pick; that this was recommended to him and he's checked it out on the internet.

I wander out and ask what a minivan to our hotel (almost 20km away) would cost for the five of us with our bags. I am quoted $20, which seems very reasonable so I don't haggle (it turns out $10 would have been possible).

And so we are dumped at our beach hotel. It turns out that we are in the "annex" which is an ordinary house about half a kilometer up the beach, which Bruce the hotelier just recently leased. We walk there on the beach while Bruce goes in the taxi.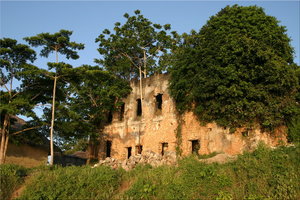 The ruined sultan's palace next door


This is costing us $35 per night per person, all paid U.S. cash, please. For this we get the run of the house, the use of two bedrooms, a maid who makes breakfast, a gardener who sweeps the walkways in the morning, and a Masai type who seems to live in the yard, and sits by the beach gate at night doing beadwork and acts as a night watchman. All these people are nice, but don't speak a word of English. The fridge in the kitchen is stocked with beer and pop and bottled water, and you write on the side of the fridge what you took, and pay for it later.

Bruce is a California dropout. In the offseason, he lives in Venice and teaches film script writing at the university there. The rest of the time he runs his hotel here in Zanzibar.

On the way over, I noticed an intriguingly ruined building next door. Bruce explains that this was a sultan's palace. I grab my camera and wander in there, immediately attracting the attention of some local kids who try to talk to me. I go into the structure, and find that the stairs are intact right to the top floor. I'm barefoot, and nowhere is there any broken glass or other foot hazards.

I ask Bruce what is scary here. He says not to worry, no hazards in the ocean, and you can go into town at any time of day or night and not worry about being mugged. I like it here already.

So I go into the water which is clear and lukewarm, and swim, and try to make conversation with a friendly local kid whose name is approximately "Sabre". The sun sets, gloriously. Andrew and Caroline are on the beach and ask me what I'm doing. "Everyone is always telling me to live a little. Well, I'm living a little".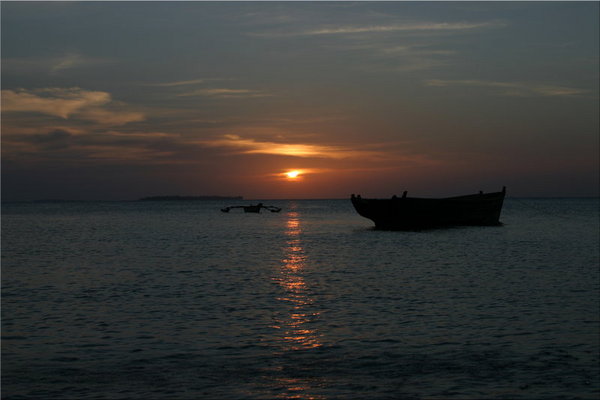 Arrived in paradise: First sunset in Zanzibar
I have to come out eventually and shower, so we can go to dinner. We walk on the beach back to the main place. Little crabs with (in the headlamp light) glowing eyes scurry around on the sand. At the main hotel, the eating area consists of low tables, and cushions you sit on. You go barefoot. Motown music comes out of computer speakers. Backlit drapery hangs from the ceiling. What kind of style is this? Southern California Eclectic, is the best guess we come up with (the hotel's web site says it's Moorish).
A large wedding party fills most of the dining area. While they eat, we wait for our food. It takes, I think an hour and a half for the appetizers to come. The food is excellent.
When, later, we wander back along the beach, the moon is just setting over the water. I look upward as I walk, and I see the tops of the tall palm trees against the starry southern sky, and it is warm and humid, and the waves lap gently on the beach, and the distant bass thump of a bar blends in as we go past the ruined Sultan's palace and step around the wooden outrigger fishing boats that haven't changed in 500 years, and greet our Masai night guard, and I sit out on the beach and I just can't believe that I am here. What an amazing world we live in. I hope someone will show me the Southern Cross before I go back home.
For tonight, Andrew and Peter and I have the air-conditioned bedroom, and I sleep like a log.
---
Next / Previous / Table of Contents / All in one page / Outdoor & Travel Page / Markus's Home Page