Ampersand Mountain, June 19 2005
Photos by Markus Wandel, Peter Krug and Pu Chen.
Gathering at the trailhead parking lot. Unusually, there are 18 people on this hike, courtesy of social networking by Pu and Lisa!
Hike up. For this time of year, it is not very buggy. A bit of deet and you can forget about the insect world.
Lisa is very glad to have her new, waterproof boots on the only truly mucky section of the hike.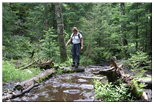 We emerge on the very open summit area. This is not above treeline; instead it is bare because the trees were cut down for a long-gone fire lookout.
Scenic vistas
Hanging around on the summit
Markus leaps over the mighty chasm separating the summit and sub-summit areas! Ewart shows off his low-tech but reliable hiking pole (a broom handle).
This pool, when full as it is here, makes for interesting photo opportunities with its reflections.
Hike down and sign out
After the hike, we go visit the beach on Middle Saranac Lake that is just a half mile walk in the other direction from the parking lot.
On the way home, we stop for milk shakes in Tupper Lake.