Catamount Mountain, February 27 2005
Catamount Mountain is not very large, but it stands on its own and has exposed rocky scrambles and good views, so it is a satisfying climb.

I don't spot the correct trailhead (it is only marked with two red blazes on trees, and a non-hiker looking vehicle was parked in front of them) so we end up bushwhacking a little before we enounter the correct trail.

Here I have already climbed the rocky scramble to the sub-summit and I'm looking down at the small open meadow where Lisa and some others have been watching my progress. It turns out that I'm on the wrong route and the correct way up is much easier. Unfortunately, my incorrect navigation has caused Lisa to decide to sit out the summit.

Summit views: Whiteface (first picture), Mt. Mansfield in Vermont (third picture).

Looking down at the sub-summit, and then looking back up at the main summit.

This is the way we should have gone up to the sub-summit. I followed the track of some other hikers who came after us, and descended this way.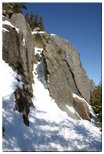 Sunset view from Harrietstown Cemetery, on Highway 86 north of Saranac Lake. The view stretches from Catamount Mountain on the left, to the MacIntyres on the right. The beautiful snow-covered one is Whiteface of course.