Mt. Colden through Trap Dike, July 5 2003
Getting started at South Meadows after a quick, efficient drive down from Ottawa

A lot less water flowing over Marcy Dam than two weeks ago. It is hazy and humid, with the summits still enveloped in cloud at this time.

Avalanche Lean-To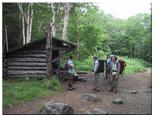 The mess in Avalanche Pass
Avalanche Lake, one of my favourite views in all the Adirondacks
Making our way along the lake, over the Hitch-up Mathildas.
Luc goes for a refreshing dip in the lake while the rest of us munch on our sandwiches.
Trap Dike, seen from straight across the lake.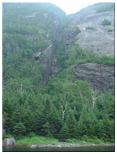 Going around the far end of the lake
Looking up Trap Dike from the bottom
Climbing
Andrew photographing Ewart in about the same place where I got the picture of Annette climbing the last time we were here. I am sitting in the spot where I took that picture.
Luc climbing out
A little farther up there is an easy way out
The weather has improved, and Algonquin is clear.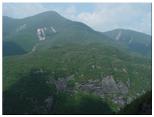 We froze all our drink bottles solid overnight. I took two of them uninsulated, and two insulated, unwrapping them after I had finished the first two. This way I had ice cold drinks all day, in fact often I had to wait for the slush to melt while I was thirsty. An ice cold bottle against the forehead is quite pleasant when resting from the strenuous climb on a hot summer day.
Up and up we march, on the endless slanting rock
The summit rock is faintly visible in the enlarged version of the next picture. But it is still 25 minutes of strenuous climb away
Ignoring Andrew's preference for everyone arriving at the summit together, Luc and I have charged ahead and are waiting at the top.
Andrew is augmenting the summit cookie tradition with a shot of the unopened cookie bag in position. Since it is windy, I have to prop it up with a water bottle.
The weather looks a bit ominous. We have to be ready to charge off the summit if a thunderstorm envelops it. However nothing happens.
The summit area is carefully divided into fragile vegetation and walking areas, with a summit steward (today only) to watch that nothing gets trampled.
Panorama photograpy. I screw it up though, by having the camera tilted below horizontal when taking the individual pictures. This causes the resulting panoramas to be curved.
The sub-summit, seen from the main one. The trail goes over it.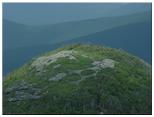 On the sub-summit, looking back at the main one
Back at Marcy Dam. The water level is very low. I go for a swim anyway, looking for someone's lost lens cap, which I don't find. I do find the dip very refreshing, even if there is only about 3-4 feet of water over the mucky bottom.
The weather has turned very pleasant, as it often does at this time of day in the Adirondacks
Summit Log Entry for this trip
Summit Log Entry for Colden in winter
Summit Log Entry for previous climb of Trap Dike
Markus's Home Page