The Great Range Hike
June 26 2004
We finally did it!
Three years ago, Andrew, Lorraine and I camped out on Noonmark Mountain to observe the Leonid Meteor Shower from this special vantage point. In the middle of the night, a couple of ladies joined us, and in the ensuing conversation they told us about hiking the Great Range every year on the summer solstice.
Noonmark has an excellent view of the Great Range. It has some of the most rugged terrain in the Adirondacks. To traverse the whole thing in one go seemed almost inconceivably hard, yet, the idea was now planted and it wouldn't leave us alone until we did it.

So this year, Andrew floated the "insane hike" idea, and Caroline, Luc, Pu and I took the bait. I luckily recovered just in time from some sports injuries. Ewart did not feel like attempting the whole hike, but instead offered to meet us at the halfway point with supplies. On a blazing hot summer day, it would otherwise be too strenuous to carry all the necessary drinking water from the last place where it can be obtained, or to descend into the valley halfway to get to a creek to refill.
We drove down on Friday night, leaving directly from work. We ate dinner in Lake Placid, then made camp at South Meadow, which is an unofficial, uncrowded and free camping area not far from Adirondak Loj (which is none of those things). This was also on recommendation from Ewart.
Andrew had the idea of trying for sunrise on top of Mount Marcy, which would necessitate getting up at 1AM and hiking very fast. The rest of us agreed with varying degrees of reluctance, and tried to get enough sleep in the few hours we had. Before settling down for the night, Andrew and Caroline went to drop off Pu's car at the Garden, which was our hike end point.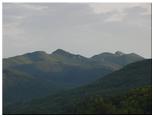 We got up and breakfasted and hit the trail by about 1:50AM. By 4AM we had gained Indian Falls.
By the time the sun rose at 5:13AM, we were almost at the treeline on Marcy. The summit itself was gained at 5:42AM, less than four hours from the start. Normally this counts as a fairly strenous hike, but we had barely started today's objective.
The sun was peering in between the horizon and the high overcast which still covered part of the sky, making very interesting lighting. The view was clear all around. But we did not stick around to enjoy it for very long, because there was a stiff wind and the temperature was 5°C. It was, after all, almost July, and so most of us had not brought clothing to endure this for very long.
The junction where the trail to Haystack branches off is marked by a signpost and is in a little clearing among the scrubby trees that occur at this altitude. I had previously only seen it with 5 feet of snow on the ground, which made it look rather different.
I had hiked Haystack before, but blindly, in cloud and rain. Today, the weather was perfect. The overcast had blown away, and we had clear blue sky and beautiful morning sunlight. I was shocked to find that the rugged summit I had thought was Haystack on the previous hike was not it at all, merely the bump called "Little Haystack". This is really an excellent mountain, with a great deal of open rocky terrain and above-treeline alpine vegetation. And the summit is a pointed pinnacle with a true 360 degree view. It was wonderful to sit there and take in the majesty of Mt. Marcy, Panther Gorge, and the jumbled mass of the Great Range seen "end on". Little wisps of cloud formed and dissipated as humid air was pushed up the mountainsides and cooled below its dew point at higher altitudes.
The trail to Basin started to drive home what we were in for. It lost quite a bit of altitude, and was steep and rocky everywhere. I nibbled constantly at my supplies of edibles - sandwiches, granola bars, jelly candies, cookies, nuts, salty crunchy stuff, anything at all with calories, and took as many sips from my hydration pack as I could bear. Sometimes, when you are exerting yourself hard, your body will try to reject food and drink, to the point of an upset feeling stomach, but you must keep it fueled or you will not make it. I would drink about 6 litres of Gatorade over the course of the day.
My previous ascent of Basin had also been on a cloudy day, so I celebrated the now open view westward by taking a panorama photo.

Meanwhile, Andrew had established radio contact with Ewart, who had lugged a heavy load of 18L of water and much edible stuff to the top of Saddleback Mountain, and was already waiting for us there.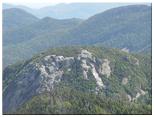 A steep descent and ascent brought us to the summit of Saddleback, where we refilled our bottles from the giant water cooler bottle that Ewart had brought up, and ate many goodies.
Then we hiked, all together, down to the notch between Saddleback and Gothics. Ewart left us there to hike back out, refusing even to lighten his load by dumping the approximately 5L of leftover water in the big bottle. We would track his progress back to the Garden by radio contact, since he was essentially always in line of sight view from this point on.
The southeast side of Gothics is open slab rock most of the way. The trail can be clearly seen from a distance and is so steep and exposed that there used to be a cable to hold on to. However this cable is now gone; only a few scraps and the anchors remain.
We were now well past the point where a normal hard Adirondack hike would have finished, and ascended slowly, methodically putting one foot in front of the other, breathing hard with hearts pounding away at 120 beats per minute or more, until we got to the top. Our packs were heavy, since we each carried about 4L of drinkables again.
Gothics is a beautiful mountain from all angles, very rugged with much open rock. But from on top, it actually doesn't have such a dramatic view, the highlight to the north being Big Slide, just across the valley where Johns Brook Lodge is (you can see the roof).
We now had 5 of our 8 summits in the bag, and I, for one, could feel the burn starting in my leg muscles. But the engine was well fueled with continuous infusions of junk food and Gatorade, and onward we trudged. The Great Range is as rugged as it looks, and Armstrong and Upper Wolfjaw each have a sub summit that you must also cross. We got more and more jaded about all these rocky vistas of peaks we had just descended from or were about to ascend, and indeed about the summits themselves. Also, we now met lots of other hikers (we had all the summits to ourselves up to Gothics; a specially rare treat in the case of Marcy). The small summit rock on Upper Wolfjaw was especially crowded and we didn't stay long.
By the time we finally finished the long, steep descent into the notch between the Wolf Jaws, the end was so near that the mighty willpower that had sustained me for so long was starting to fade. We were able to drop our packs here, and ascend lower Wolfjaw unloaded. We went up and down pretty quickly, considering. On top, we took some summit photos, and found a lookout where we could gaze back toward Marcy. From this view, Mt. Skylight was not visible, so in fact every single summit in the jumble was one we had hiked that day. It was incredible that we had managed it.
The weather had been perfect all day, mostly sunny but not hot, and with a near miraculous absence of mosquitoes and blackflies. None of us had even put on insect repellant. But now we had to endure about an hour of rain. It mattered little. "We got to get ourselves back to the Gaaaarden" echoed in my brain (the CSNY Woodstock song) as we hiked out, on the south side trail along John's Brook, which is not as smooth as the north side one and indeed goes right over the rocks on the riverbank in one place.
And then it was done. Our total time was 15:30, for eight summits, a distance of 34km, and a total elevation gain of 8200 feet. We were able to drive back to South Meadow, break camp, and eat dinner in Lake Placid while the sun still shone, and we got back to Ottawa at a perfectly reasonable 10:45pm.
I was sore for a whole week from this hike. Others fared better.