During a planning session for the Southwest 2001 trip, one of the participants suggested that for wilderness hygiene one should take waterless hand cleanser, and another was researching lightweight, multipurpose backpacking equipment...
Feb. 26, 2001
After our discussion today, I wanted to try this waterless hand cleanser stuff, so I went and bought some at the grocery store.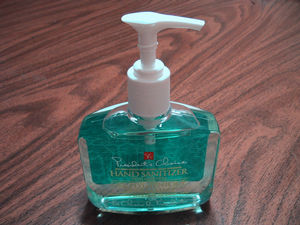 Active Ingredient: Ethyl Alcohol 62%. Other ingredients: Water, isopropyl alcohol, emollient, thickeners, fragrance, aloe vera, FD&C Blue #1 and FD&C Yellow #5.
Works as advertised, but it's so strongly perfumed that the smell of my hands could put me off my food afterward. I wonder if you can get it anywhere near this cheap ($3.49+tax for 236ml) without the last few ingredients.
Hmmm. Keep away from flame, eh? Let's see about that. Here's a not very scientific test: The pop can contains about 125ml of cold water and I'm burning 2 full squeezes of the pump of the goop. Burns for quite a while with only minor sputtering because of the non-alcohol ingredients. At the end the water is quite hot but you can still put your finger in it, so I estimate, say, 6 full squeezes of the pump to make a truly piping mug of cocoa.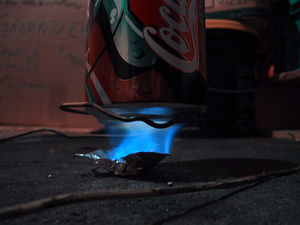 Peter, a whole new avenue of research in lightweight multipurpose camping substances, eh?
For the record, this is what's left of the stuff after it goes out.