Bicycles
Written June 23, 2003
I may not be a skillful mountain biker, but is it ever fun to go bombing around the woods, or even the neighbourhood roads, on a cheapy mountain bike that you've fixed up to tip-top operating condition. And I'm rough enough on road bikes - riding them on gravel paths and in the rain, leaning them carelessly against sharp brick corners, letting them fall over occasionally and even crashing once in a while - that I just can't bear the thought of subjecting a new $1200 bike to such abuse.
Now that I drive a decent new car, I get my driveway mechanic kicks from repacking bicycle bearings, adjusting indexed shift systems, swapping seats around and so on. Below are most of the bikes I currently have. Why so many? Well I just can't say no to an interesting bike when it's cheap, and as long as there's room for more hooks on the garage ceiling to hang them, keep 'em coming!
Schwinn "World" Road Bike
This is one of those pseudo-road bikes with tall gearing, stem shifters and the despised "suicide lever/death grip/turkey wing/whatever" brake extension levers. Back when road bikes were in fashion like mountain bikes are now, everyone had to have a bike with drop handlebars and skinny tires, but since they weren't really meaning to race around at high speed in a tucked-down position all the time, they bought bikes already outfitted for leisurely riding in the classic "sitting up straight" position (usually with the seat too low too!). Thus these facilities to bring the controls closer. As bikes of this type go, this is one of the best ones. The shifters are a very nice indexed type and a lot of components are aluminum.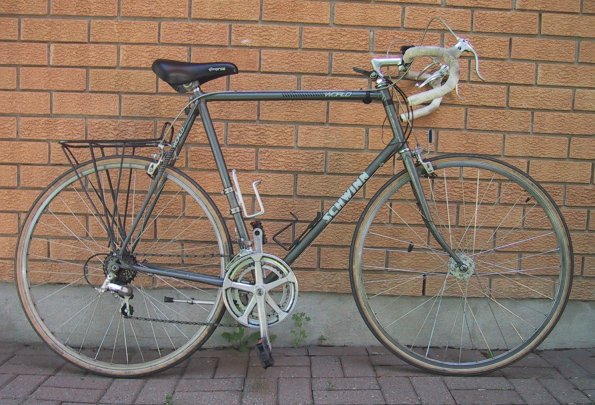 I bought the bike for $55 in winter 1997. It's really too big for me but I like the way it rides and I have put many thousands of kilometres on it. I tacoed the rear wheel in a crash the first time I took the bike out and went through a succession of junky steel wheels before a friend finally took pity and gave me a set of old but high-quality wheels (with classic Normandy hubs) which are also the modern 622mm size so I can actually get good and inexpensive tires again (currently kevlar-belted "Panaracer Pasela").
I've gone through a succession of seats, added the rack, changed the bottom bracket to a cartridge and the cluster to a Hyperglide one, and replaced many minor parts. I ride this bike to work, to the grocery store, on big bike tours and so forth. It's my main bike.
Fuji "del Rey" Road Bike (approx. 1984)
This is the best bike I have. I bought it in winter 1996 for $70 to replace my old Peugeot bike that I'd pretty much ridden to death. But it was such a nice bike that I just couldn't bear to subject it to my daily abuse, so I actually patched up the Peugeot for another season, and then ended up getting the Schwinn. So this bike has seen very little use, less than a thousand kilometres while I've had it.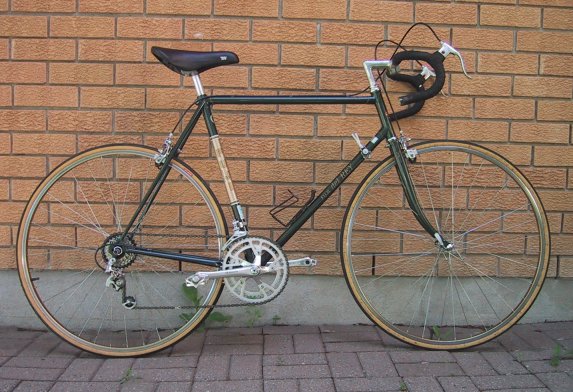 It spent several years on hooks in the garage, covered in oily grime and dust, until my friend Andrew developed an interest in road biking in 2002 and I lent it to him. Seeing it used and appreciated like this, and having recently started maintaining my main bike better, I stripped this one down, cleaned the parts, repacked the bearings, put on a new (but low-quality) set of 27" tires and started riding it now and then on special occasions.
Everything on this bike is original except for the Shimano Hyperglide freewheel (I still have the original Sun Tour one), chain, seat (I still have the original one, nothing special though) and handlebar tape! Also I peeled off the rotted brake lever hoods.
Nishiki Road Bike
I bought this one for $20 at a garage sale in summer 2003. I don't know how old it is, but it has drilled chainrings (a fad at one time), an Ofmega "Premier" derailer, Sugino crank, and a lot of old looking Shimano parts. It originally used tubular tires, but was upgraded to clincher rims at some point.

When you see a bike of this quality for $20, you buy it whether you need it or not, if only for the wheels (nice 622mm ones). But this bike has had a hard life. The frame has lots of paint damage and rust spots, the large chainring is very worn, the bottom bracket was finished, the front wheel bearings are rough, and the brake lever hoods had deteriorated to the stickiest toxic waste you ever did see. On the other hand the "Continental Super Sport" tires are as good as new.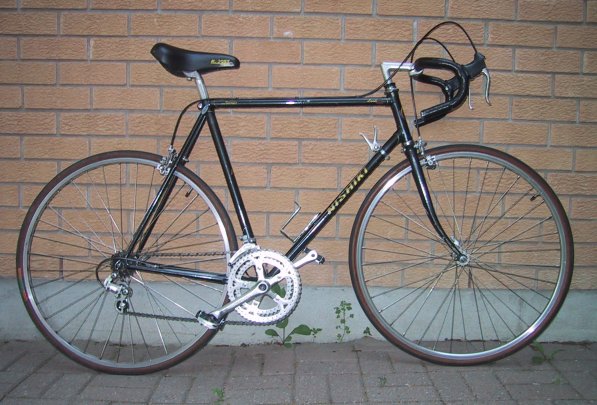 Having decided to fix it, I changed the bottom bracket to a less worn one that I had salvaged from another bike, the chain to a half-worn-out one retired from my Schwinn (soon to be replaced with a $8.25 "Z chain" when Mountain Equipment Co-Op gets more in stock), attacked the cranks and chainrings with Varsol, repacked and adjusted the rough front bearings as best I could, changed the brake cables and housings, bought some cheap ill-fitting replacement brake lever hoods, retaped the handlebar, and replaced the lose and broken pedals with ones left over from one of my mountain bikes. Now I can ride it, so I have a close-ratio geared bike (the tiny cluster is definitely not for the Gatineau Hills) with hard skinny tires for such occasions as I might want one.
"Steve Bauer" Mountain Bike
This is my first mountain bike. I bought it in 1994 for about $60 secondhand. Since then it has received new bottom bracket parts, new handle bar grips and, recently, different wheels and new brake pads. The wheels were a garage sale find for $10 the pair. They are considerably rounder than the original wheels, plus they came with these brand-new massively balloony knobby tires.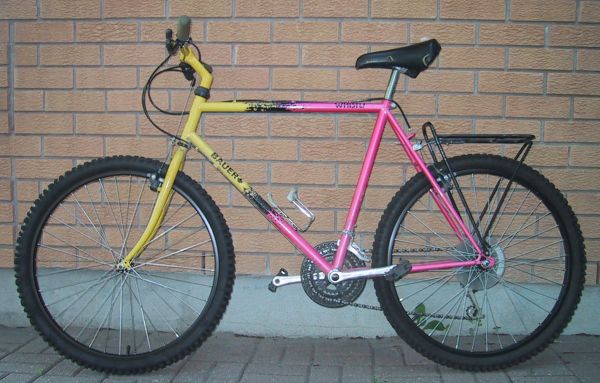 The bike has thumb shifters with three chainrings front, non-indexed, and six sprockets in the back, indexed (adjusted so all the index stops work in all the gears too). I'm surprised how much I like the feel of these ridiculous tires - pumped up to about 40psi they roll well enough on pavement, and boy do they ever work off-road. Almost makes me wish I wasn't such a chicken when actually mountain-biking.
"Velo Sport" Mountain Bike
This is a recent (Spring 2003) acquisition. I got it for $40 at a garage sale. Everything was wrong with it. I spent a whole day fixing it up, challenging myself to make it usable without buying any new parts. So I repacked the badly worn bottom bracket without replacing anything, replaced the chain with a less worn chain already retired from a road bike, replaced the totally loose suspension seatpost with a rigid one that I luckily had, tried several seats until I settled on one (not the one shown here) and - the icing on the cake - actually put on a pair of toe clip pedals - with plastic toe clips, the first toe clip pedals I've ever found usable - also after the picture was taken. These help when bouncing down a steep trail in the Gatineau Hills, because, if you slip off both pedals and land with your delicate manly bits on the top tube - ouch, it hurts just to think about that!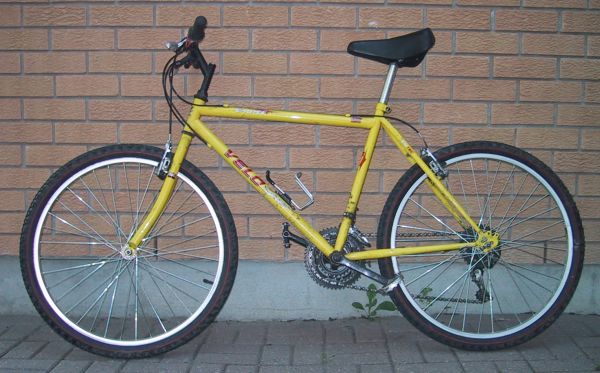 This bike has 21 speeds. Again I got all the index stops working despite the cheap parts. I even got the back to shift reliably onto the huge inner sprocket of the "mega-range" freewheel that is on there (which the derailer isn't really compatible with). With this sprocket I get well less than 1:1 gear ratio, which means climbing performance is only limited by wheel traction, or maybe by tipping over backwards!
That's my mountain bikes. I'm sure it's a joy to ride a $2000 mountain bike of quality, but when I'm bouncing over sticks and stones, I'll tell you, I just love it that the machine which is working so well is a piece of garage sale junk that I've tuned up myself.
They don't make 'em like they used to. Nowadays all the cheap mountain bikes have front suspension, and most of them have rear suspension (and the ones that don't have these ridiculous looking frames with rear suspension "styling"). And of course they are all made out of aluminum, which doesn't seem to stop them from weighing sixty pounds or so! Once those bikes get as old and beat up as these, I think they'll be good for nothing but the garbage. But maybe I'm just a nostalgic old fart. I like the look of the older bike better because it still has a horizontal top tube.
Raleigh "Encounter" Bicycle
What do you call a bicycle like this? Hybrid? General purpose? It has road gearing and road size wheels (622mm rims) but fat tires, straight handle bar, cantilever brakes and thumb shifters.

I bought it at a garage sale because a friend was looking for a bike. Naturally by that time she had just gotten one from elsewhere and didn't need it any more. And the $50 I paid for it was about $35 too much (both the wheels needed replacing).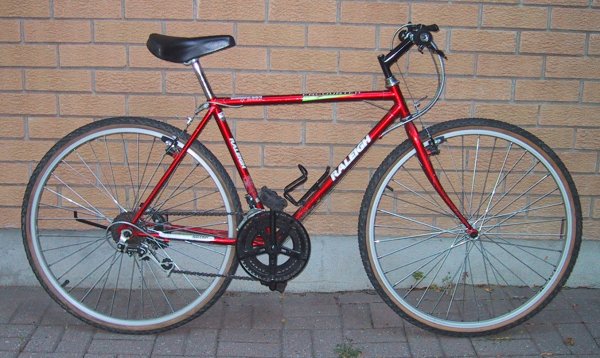 The thing that strikes me about this bike is the angle of the seat tube. If you put the seat at a reasonable height (as shown it's still a bit low for me) you end up sitting quite a bit behind the pedal axle. Why is this? Is the bike designed from the start to have the seat way too low, and to be ridden in a "sitting up straight" posture? Also, it has a perfectly straight handle bar. What is the reason for this? It's too long, and the grips are at the wrong angle, for comfortable distance riding. Perhaps straight handle bars only came along because people thought they look cool.
Anyway, so now I had this bike, so I installed the rear wheel I used to use with my Schwinn, then bought a matching front wheel. I stripped off all the rattly junk that I never use anyway (including fenders) and made the indexed 12-speed drive train and brakes work perfectly. The end result was supposed to go to my sister Marlene because she has one of those "compact drive" mountain bikes with itty bitty chain rings, and she wanted a bike with road gears. But then she changed her mind. So here it still is, and I'm actually getting to like it, why not one more bike, and it'll come in handy for going cycling with visitors who don't have a bike and who, like most people, prefer this sort of thing to a road bike.
Bikes I No Longer Have
As a kid in Germany, I had a single-speed coaster brake bike. My mom had bought it secondhand. After some additions, I was very happy to have a "street legal" bicycle, with bell, working generator lights and hand brake, as well as fenders, rack, pump, little repair kit and so on. This was during the 1970s ten-speed bike boom and my best school friend had such a bike, whereas I had to walk mine up the steeper hills in this hilly country. We brought the bike along to Canada with the rest of our household goods, but it was never really used again, since we lived in the land of great distances, gravel roads, and drivers' licences at age 16. Eventually it was scrapped for its bottom bracket spindle, after I broke the one on my mom's three-speed.

When I went to university in 1985, during frosh week I saw an ad for a bike for $15 and went and bought it. It was a rusty 3-speed beater. I rode around on it for a day or two, then the rear axle broke (one of the nuts was loose, I hadn't even checked; I didn't care about bicycle mechanicals in those days). Realizing that this was fatal, I just heaved the whole thing into the next dumpster and forgot about it.

A few years later a friend let me play around with his road bike and I rode it around the countryside north of Waterloo. I really liked it and decided I wanted one too, so after I graduated and moved to Ottawa in 1990, I bought a lovely Peugeot "Challenge" 10-speed from someone at work for $200. The bike was probably 10 years old then, but in perfect mint condition, having been ridden little if at all. This was a decent bike - you can tell at a glance whether a bike is any good by looking at the crank - this one had a forged aluminum crank with bolted-on chainrings, like my Fuji and unlike my Schwinn.

I rode this bike for six summers but I was very rough on it, bending more than one wheel and never doing any maintenance. After I got the Schwinn it just hung in the garage until an elderly colleague started telling me about this bicycle someone had given him and all the repairs he was doing to it. Realizing from the description that the bike was a cheap piece of junk to begin with, and seeing how earnest he was, I offered to sell him the Peugeot for $30 (the same price as he had earlier sold me a nice pair of old stereo speakers for). He fixed it up perfectly, with new rims and so on, and still has it.

Rideau Lakes Tour 2002
Rideau Lakes Tour 2003
Markus's home page