Hurricane Mountain, March 13 2004
The hike in starts a little windy, but otherwise a beautiful, not too cold, late winter day. Shelly in particular is happy to be here!

At two hour intervals, the day is interrupted for antibiotic eye drops for Andrew. He refuses to let anyone help him, even though the drops only hit home about half the time with self-application.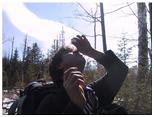 There really isn't much snow here. In other years, at this time of year, there might be four feet of snow on the ground at this elevation.
The summit, and its fire tower, is visible thorugh the trees.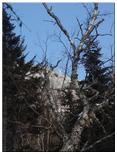 As we go higher, there is more snow and ice...
... until we find ourselves in a proper winter wonderland again.
As we approach the summit, it becomes apparent that it is very windy up there, and we don the full winter regalia, close up armpit zippers and so on.
Whiteface is a beautiful mountain from any angle. The ski runs even seem decorative.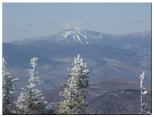 I love old fire towers such as this one.
We find a slightly more sheltered area to eat lunch. Up on the exposed summit, there is a strong gusting wind that chills you quickly, even in sunshine at a balmy -4°C.
This mountain positively has one of the best views in all of the Adirondacks. Even though it is only 3600 feet high, it has lots of open space all around and you can probably see half of the high peaks individually as well as much open country and a good deal of Lake Champlain. Alas, battery power limitations do not permit me to take a continuous stitched panorama.
The following pictures, in order, show the Sawteeth, Rocky Peak Ridge, Algonquin Peak, Whiteface, Giant and Dix, the valley where the Ausable Lakes are, Dix and Nippletop.
I cannot resist the temptation to climb the tower, even though the bottom two flights of stairs are gone, and the wind is gusting strongly. I make sure to have a good handhold at all times so I can't get blown off, and I test all the wooden steps and floor before putting my weight on them. No worries. The tower is very sturdy and only vibrates maybe 0.5 centimetre during the strongest wind gusts.
On top of the tower, the walls of the cabin actually provide a welcome shelter from the wind. However battery limitations don't permit very many photos.
A satisfied group of hikers prepares for the descent, in a forest clearing just below the summit, where there is no wind.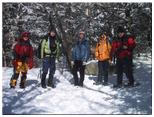 An icy bit. Andrew and Caroline practice ice climbing. The rest of us just detour around it.
And so another beautiful hike is at an end.