Monday, September 19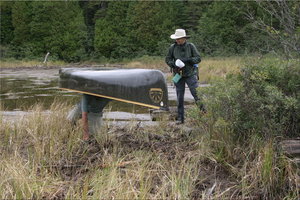 Trial by mire: Muddy portage section
(Lisa Pugliese Photo)


All that remained now was the return trip, and the weather was grimly grey, damp and windy. So we threw ourselves into the task of the eight portages back to Smoothwater Lake. By this time, Lisa and I were getting pretty good at this, and as a group, we "hauled ass" and reached the deeply muddy south end of that lake by noon. This time, Michael, having already taken his canoe across, relieved me of mine, and we all got through the mess quickly. Things bogged down when Ken and Chris arrived with the other canoe. Michael carried that one too, but this time sank in to his thighs.

We stopped for lunch at a nearby rocky point. Ken showed off his camping lunch solution: Peanut butter and jelly, ready mixed in a squeeze tube, dispensed onto crispbread. Yum.

The trip along Smoothwater Lake, whose waters were no longer smooth due to the crosswind, was done cautiously, hopping along between points of land on the western shore. I had taken extra precautions to bag and secure everything in the canoe in case we got tipped over. But there were no close calls. We headed to the camping area at the northern end. There were two sites to choose from, and we took the nicer one, on gravel bar jutting right out into water. The scenery was spectacular here, but we were exposed to the wind off the lake, so we set up two of our three tents in a small sheltered area that faced north. The campfire, fed with large pieces of damp driftwood, burned furiously because of the wind.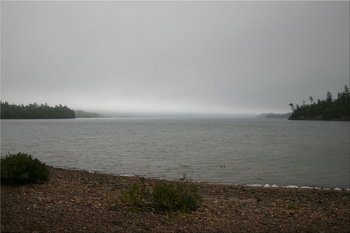 Smoothwater Lake, not smooth, from the north end


Dinner was prepared by Michael, and was spaghetti with a delicious vegetable sauce which he had prepared ahead of time and dehydrated, claiming a total material cost of $7 for dinner for five people. He had the same carrot salad that Ken had, this being an easily dehydrated recipe popular in the canoe club.

There were two suitable food bag hanging trees, and each had a tent directly under it. I tried to psyche Chris and Michael into moving theirs by pointing out the wash pattern in their spot which hinted that it would have standing water if it rained. But they didn't budge, and we had to hang the food bag on another tree about 300m away down the beach.

After threatening to rain all day, it now did with abandonment. The thunderstorm lasted over two hours. Huddled in the tent with Lisa, I found to my dismay that the tent roof was now leaking, a gentle rain of droplets falling onto our sleeping bags. Apparently I was the only person who did not know that an aging tent needs to be re-waterproofed occasionally.

Map of today's route (also available without annotation). All pictures for this day.
---
Next / Previous / Table of Contents / All in one page / Outdoor & Travel Page / Markus's Home Page