Winter Ascent of Mt. Marshall via Indian Pass Trail
Getting going at Adirondak Loj

Trekking across Heart Lake

On the Trail

Break at Scott Clearing Lean-to. Kerry's foot needs attention because of a blister.

This is as close as we get to the spectacular cliff of Indian Pass

Starting to climb steeply toward Algonquin Pass

The next picture is spoiled by lens flare, but note the trail marker just level with the snow surface. This means we're standing on six feet or more of the stuff.

Iroquois Mountain from Algonquin Pass

First real view, from the hill between the trail and Mt. Marshall: Colden and Marcy.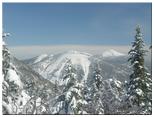 View across to the actual Mt. Marshall summit. Much bush-whacking between here and there.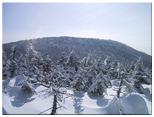 Kerry makes first-hand acquaintance with a spruce trap.
Markus during the strenuous bushwhack up the side of Mt. Marshall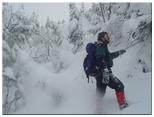 Summit group photos
Various views from the summit lookouts on Mt. Marshall
Back at the lean-to, in total darkness now.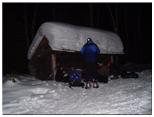 On the trail, in the dark
Refuelling in Saranac Lake