The weather improves gradually. Andrew studies the map and decides that a nice hike would be Parker Ridge, south of Mt. Athabasca. So we drive there.

The trail up to the ridge has a beautiful view of Hilda Peak, which is sort of a miniature Matterhorn.

On the other side of the ridge, the Saskatchewan Glacier awaits us in all its glory. This is the primary source of the Saskatchewan River.

The standard tourist trail goes to a good lookout over the glacier valley. This is perfect for the obligatory "standing on a crag overlooking the scenery" tourist photo which I just love (so sue me). Andrew obligingly takes it.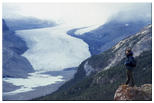 Then we go off trail and head up the ridge.
As we go higher and higher, the scenery becomes more and more alpine, with no plants, and an icy wind. As we get into the wispy clouds, we get bombarded with tiny ice particles, for that is what the clouds are composed of.
We call it quits at about 8500ft elevation. We could have handled the wind and cold and marched up to the highest part of the ridge, visible to the left of Hilda Peak. But there is much walking to do in the next few days and I don't want to risk getting sore yet.
As we go down the trail, the clouds finally clear around the summit of Mt. Athabasca.
In the improving weather, the mountain crags visible from our campsite (not actually Mt. Athabasca, that's just out of view to the left) are looking nicer all the time.