Here are the pictures from a hiking trip to New Hampshire by Andrew, Lorraine, and (your humble photographer) Markus.

Entering scenic Vermont, southbound from Quebec, on Friday evening.

We camp out at Brighton State Park, a nice place, but the night's rest is ruined by some cottagers blasting rock music into the landscape at incredible volume, all the way to 3AM, at which point perhaps they actually go to bed, or the police (which campers have called in frustration) have shown up and told them to. In the morning I'm groggy and tired but I take some pictures of the (nice) campsite anyway. The edge of the pond is only about 20m from the campsite.

Stopped for gas just across the Vermont/New Hampshire state line.

We set up camp in the campground at Franconia Notch. We have to wait for a campsite to become available, and get ready so it is already well past 10AM when we get going. We walk on a paved recreational path parallel to the interstate highway, to "The Basin", a nice formation carved into the rock by a stream.

A little further on, we turn left onto the Appalachian Trail, heading uphill toward Liberty Springs. I should note you can get a topo of the whole area off TopoZone at this URL...

http://topozone.com/map.asp?z=19&n=4890898&e=288039&symshow=n

You can enlarge it by clicking "1:25000" in the top border, and then page around with the little green arrows. Our hike is up the Appalachian Trail, a side detour to Mount Liberty, then along to Mount Lafayette, then down to the notch again.

The camping area at Liberty Spring has a fulltime caretaker who lives in this tent. Since he is not there I sneak a peek.

A short while later we are up on the ridge, and turn right to go up to Mount Liberty. In the second and third pictures we are on a sub-summit just below the real summit.

Now we are on the summit. In the first picture, looking along the ridge, over top of Little Haystack toward Mount Lincoln, with Franconia Notch at the left. Second picture, Flume Mountain. Fourth picture, the notch zoomed in.

Stopped for a break shortly before the top of Little Haystack, looking back at Mount Liberty (the nearer pointy summit).

Summit of Little Haystack in the near foreground.

View from Little Haystack. From here it's all exposed ridge hiking, beautiful stuff. I'm still under the impression that the great big summit we see from here is our target, Mount Lafayette. It turns out it's Mount Lincoln (second frame).

On the trail toward Mount Lincoln.

As we cross the top of Mount Lincoln -- without even stopping to note the fact -- we gain sight of the final target -- Mount Lafayettte.

We have arrived. Andrew has lugged his 5lb laptop computer all the way up here because he was afraid to leave it in the car -- I think more importantly because he's always lugging extra weight in order to stay in shape for serious mountain expeditions. Anyhow this allows MP3 tunes, GPS downloads and games of solitaire in this rarefied atmosphere (5300ft).

Notice the foundations of some sort of summit hotel that was here a long time ago.

After savouring the mountaintop feeling for a suitably long time, and catching up on food and drink neglected during the exhilerating ridge hike, we start the long trek down.

Too soon, we are back at the timberline. Our next stop is an AMC hut whose name I forget.

We hike down over a long ridge with many viewing spots back up to the mountains we just crossed. The first four pictures are Liberty, Lincoln, Lincoln, Lafayette. The ninth picture is looking down the ridge.

10 hours and 20 kilometres after we started, we are back at the campground. Here is the underpass under the interstate highway.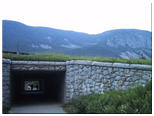 After a pretty good night's sleep -- it was perfectly quiet with long intervals between cars passing -- we have ourselves a leisurely breakfast with food given to us by other departing campers -- eggs and toast.
We drive back down to the Basin, to look for a geocache (GC9E5). To our immense frustration we do not find it after more than a half hour of intense searching.
We look at the Basin again...
... then we hit the road homeward. We aim toward Burlington Vermont, where there is another interesting sounding geocache (there are a couple inbetween too but you can't do everything). Here we are stopped at the Ben & Jerry's Ice Cream Factory in Waterbury, just east of Burlington.
Our second geocache attempt meets with success after just the right amount of searching. Neat spot, a nature preserve just south of Burlington.
Stopped for food on the waterfront in Burlington...
... and again at a McDonald's after crossing into Ontario a few hours later.
And so another great trip is done.