Wednesday, January 5
In the morning, the beauty of the Barranco site reveals itself. Across the gorge, a thousand foot rock wall. Beneath it, a huge tent encampment. The upper mountain with its snow fields, glaciers and talus slopes, all glowing in the morning sun.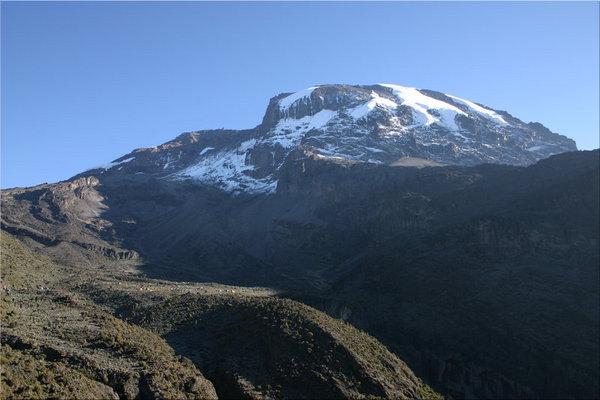 Barranco camp site from a distance
This is the highest I've ever camped at, and I feel fine. No headaches, no dizziness, and at rest I can breathe comfortably slowly. But I can't eat. In the night I threw up all of dinner, and at breakfast I feel queasy and can't eat much. I blame this on the altitude. Also, I am instantly out of breath if I exert myself.
We meet Roman, who is from Munich, Germany, and Mike, who is from Calgary. Both are doing solo expeditions, i.e. just themselves and two porters and a guide. Mike is spending a year in Africa after graduating from university.
I also talk to a pair of experienced Austrian climbers, who, like us, intended to go up the Western Breach - a daunting looking, mostly snow-covered 30° slope seen from here in profile on the southwest side of the mountain. There is talk that it has snow and ice on the trail, and that they would do it if, like us, they had brought ice axes and crampons. But since they didn't, they will go east to ascend from Barafu camp instead (where we will descend). Our guide Chombo will also try to dissuade us from going up that way, but Andrew sticks to his plan.
Before lunch, we do an acclimatization hike up the next part of the trail. Chombo immediately assigns us a pair of minders. The trails here are not marked well and not signed at all. It is expected that you don't walk anywhere without a guide. Our two minders would like to take us around a loop, but it is not clear how long the loop is, and when we reach 14,000 feet and it starts to rain ice pellets, we turn around. In the course of this hike, all of us except Andrew have set new elevation records for ourselves.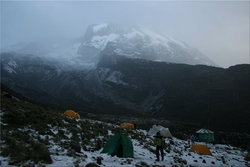 After the deluge


In the afternoon, the ice pellet shower becomes so heavy that we frequently have to brush the accumulations off our tents to prevent them from sagging. Also, the two "Tarn 3" tents that we are using are getting wet inside, and we have to improve the way the flysheets are pegged out to reduce the leakage.

After dinner, the deluge stops, the clouds clear and the scenery looks greatly modified. Chombo says that we are lucky to see snow here. I just laugh and tell him about the kind of snow we see at home at this time of year. Several streams rush through the camp site, but fortunately all bypass our tents. Caroline and Yi's tent has become wet inside though. We give them our overbags to use inside their damp sleeping bags.

I marvel at how cheerful and unaffected the porters seem to be in their light clothing. In particular, Luckas is still wearing just shorts and a light shirt!
---
Next / Previous / Table of Contents / All in one page / Outdoor & Travel Page / Markus's Home Page