Thursday, January 6
Everything is brilliantly white with the frozen pseudo-snow from last night. The streams that ran through the camp have frozen solid, but begin to tinkle again when the sun reaches the ground. At breakfast, several people take Ibuprofen to combat altitude headaches, but I don't need one. Instead, my stomach feels so delicate that the smell of the mess tent (where the porters ate anchovies last night) makes me queasy and I eat only a little food while walking around the camp.

After breakfast, we pack up our porter bags and swiftly commence our hike with Chombo.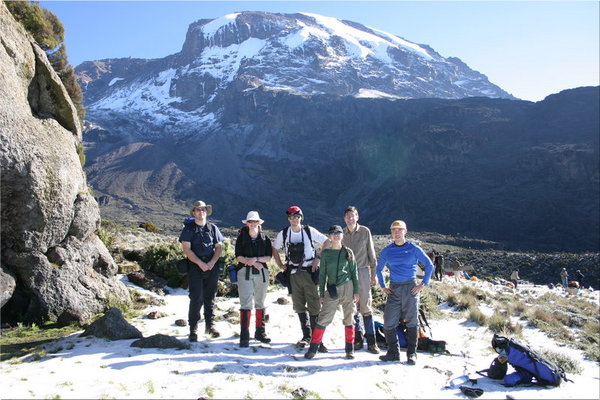 All set for the hike from Barranco Hut to the Lava Tower
We initially hike with Mike and his guide, but they are faster and go on ahead after the first hour or so. Roman is no longer with us, since he did not take a rest day at Barranco and went up yesterday.
I feel fine until about 14,000 feet (as high as we went yesterday) but then the altitude gets to me again, and I am breathing heavily and walking slowly even though it is less steep. Caroline gives me a "power gel" which is only 100 calories, but helps because I can keep it down.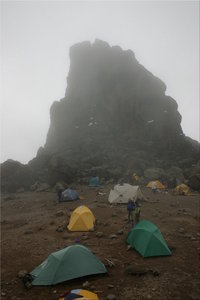 Lava Tower encampment


The summit looms much closer now, only 5000 feet higher than we are. The clouds enclose it at about 10:30AM and soon we are walking in grey, gloomy weather again.

We are in a lifeless landscape of brown earth and rocks. In some places, not a speck of vegetation is visible anywhere. The air is thin. Several people have altitude headaches. Andrew is teaching us "pressure breathing" where you exhale through tightly pursed lips, to increase the air pressure and therefore the oxygen absorption in your lungs.

After a long walk, the lava tower emerges from the murk. We are at 15,000 feet, but heartbreakingly, we have to go down into a deep gorge and back up on the other side before we reach camp. Though the timestamps of the digital photos reveal that it took half an hour to cross it, it seemed longer. And then, blessedly, we have arrived. Tents are already up, and on level ground too. Among the scattered supplies, I see an emergency oxygen kit.

After lunch, of which I manage to eat a small amount, Andrew and I go walking a little way down the trail toward the Shira Plateau, where we see another tent encampment in the distance. Pu, Peter and Mike join us.

I still don't have an altitude headache. We are at 15,200 feet, and theories abound how best to cope with this. One says that you should minimize your time at such an altitude and continue right up the mountain the next day. Another says that you should take lots of time to acclimatize (which we are doing - rest day tomorrow). Some say you should take Diamox as a preventative measure, others say you should only take it when you really need it.
---
Next / Previous / Table of Contents / All in one page / Outdoor & Travel Page / Markus's Home Page