Superstition Mountain Wilderness
From Phoenix, we head back into the mountains on a different road to go hiking. This protected nature area starts right after the boundary of the suburbs. Fortunately you don't have to go far in to get back to that natural desert feeling.

We split up. Lorraine, Jody and Bob go up the relatively easy trail at the bottom of the ravine. PeterK, PeterG, Andrew and I go up a rugged trail through the craggy hills on the right. We stay in radio contact via the walkie-talkies. I am a bit cranky this morning because of all this urban metropolitan stuff. The others set a fast pace and soon I am huffing and puffing and happy again.

As far as I know, your typical cactus doesn't bloom every year. So when they do, they really make an all-out effort.

Hi Mom! See how I'm making use of these walkie-talkies I got for Christmas!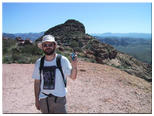 It hardly even looks like a desert in springtime. The second picture is probably my favourite one from his hike.
The barren desert look returns at the top, with a view of Weaver's Needle.
We all hike down together on the "easy" path. Even it is quite rugged.
There are dozens of different kinds of flowers blooming here. I've only photographed the most obvious ones. Springtime is definitely the time to see this area.