Sedona
We drive back down Interstate 17 and up highway 179 to Sedona, like yesterday. It is a detour but the quickest way. We stop at a lookout point where the highway is about to go off the edge of the Colorado Plateau.

Sedona is very developed touristically. There are tons of gift shops, pink jeep tours to the "energy vortexes" in the area and all sorts of mystic stuff. It's of pretty high quality as such tourist attractions go. In the store windows I see some southwestern furnishings and home decorations for sale that simply could not be found at all back home in Ottawa, if you wanted that style.

Our first stop is at the first decent looking place to eat, which is Jumping Jack's deli.

Bob is intrigued by the golf courses around here. It is decided that we will split up. PeterG, PeterK and I will do some easy hiking in the countryside, Bob and Andrew will golf, and Lorraine and Jody will hit the gift shops. Here is Bob looking in the phone book for golf courses.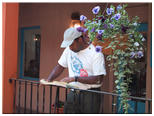 Red Rock State Park does not have the isolated scenic grandeur of some of our other destinations, and even the longest, hardest paths are easy by our standards. We walk about 3 miles. It turns out that the place is quite charming in its own way.
We drive back into Sedona, then stop at most of the scenic highway pullouts in the area to get our fill of the cliffs. PeterK, who is driving, shows saintly patience with PeterG's and my intent to stop at every place that might offer a new view. The fourth picture is Bell Rock, the last one is Cathedral Rock.