Escalante / Grand Staircase
Soon after the Lake Powell scenic overlook, we turn right onto a rough dirt road and we're in Escalante / Grand Staircase National Monument. We cross it on this dirt road, heading (if you're looking at a map) toward Henrieville on the other side.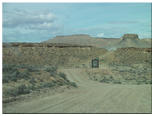 Our first stop is along a crumbly ridge called the Cock's Comb. Andrew, PeterK and I zoom up to the top of it. On the way up, I notice decisively that 24 hours have not been enough to fully recover from the Grand Canyon hike.
This colourful area is our next photo stop. I'm still fuming over a perfect picture of some cows that I missed because nobody wanted to stop for it. I get a little bit pacified when I finally find a good picture of this place looking in the rearview mirror just as we exit it. This time I do get my photo stop (last picture).
We pass by the turnoff to Grosvenor Arch and go in to take a look.
Soon after, we cross a ridge and get an open view of the area around Kodachrome Basin State Park. Incidentally, among the features on the ridge at the horizon is Bryce Canyon (which is not really a Canyon).
The winding road into the distance looks so cool that Peter stays behind to film the lead vehicle driving down it into the distance.