Observation Point Hike
While the others were getting ready for and then hiking Angels Landing, PeterK and I did the longer hike to Observation Point. This is a good trail. It has excellent trailwork (concrete paving most of the way up), extremely varied terrain and a fantastic view where it is exposed to the main valley.

First of all, a good view of Angels Landing.

After this point the trail goes out of sight of the main valley, following this slot canyon for a ways.

Then it starts climbing higher toward the left, with many switchbacks.

The trail is chiselled right out of the mountainside up here.

Here we are at the canyon rim, with quite a ways to go to the actual point.

Looking down at Angels Landing. The part where Bob and Lorraine turned around is about horizontal center of the second picture. Note how narrow the ridge is.

I used my 8x binoculars on the digicam to make a primitive telephoto of 35mm camera equivalent focal length 560mm. The optical quality is really bad, but even so, it is clear the leftmost figure is Jody. For scale, compare this picture to the previous ones.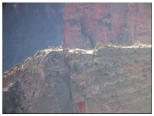 Peter was filming the others, but even with the long zoom range of the camcorder, the people were barely recognizable.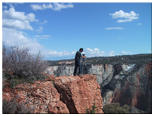 We take some more scenic pictures...
... and the USGS marker, with and without context.
Then it's time to head down.