The Racetrack
The official interesting thing about this place is that these rocks, sitting on a dried-out mud lakebed, move around, leaving trails behind them. It is theorized that under certain wet conditions, the mud bed becomes slippery enough that the wind can push the rocks around.

What I find interesting about this place is that, at least in the late sunlight, it looks, well, alien. It would fit right in to the latter parts of "2001: A Space Odyssey". I don't think my pictures can really get that across.

But first things first. On the way up, we have our second flat tire.

Teakettle Junction (duh)...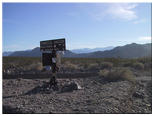 The playa (that's the word for this mud flat) comes into sight. At this point it is still mostly sunlit. I wish I had a better picture. As usual, this thing is HUGE. It still took us more than 10 minutes to get there.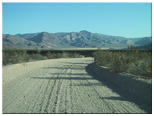 Here I'm standing on the mud flat, and the other car is approaching. Look at the picture large to see it to get s a sense of the size of this place.
On the way back (many miles of rough dirt road again), as it gets dark. The middle picture is one of my favourites of the whole trip.