Friday, September 16
I was seemingly the last person in all of Ontario who had never been on a serious canoe tour. Canoes were tricky things that tipped over, subjecting their occupants to drowning and/or hypothermia, if you so much as directed a breath the wrong way. Canoe-expericed siblings spoke haughtily of the art of the J-stroke.

I had heard of Ishpatina Ridge. It is the highest point in Ontario, a lonely place in the Northern Ontario wilderness with no road access near it. Then Chris mentioned that he was organizing a canoe trip to it on behalf of the YMCA Canoe Camping Club. Guests were welcome. I signed up. Since Lisa loves this sort of thing and had canoe experience already, I recruited her as well.

Preparations began as the trip drew nearer. Lisa borrowed the necessary gear from friends (thanks Tara, Caroline and Ewart), took care of the food and found a canoe rental place. I was at my parent's camp, where there is an old canoe to play with, and put in as much mileage as I could to get my arms into shape.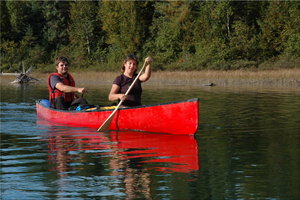 Markus and Lisa on the Montreal River
(Chris Lawson Photo)


On the departure day, Lisa and I showed up in Temagami to pick up our canoe from Temagami Outfitters. We rented a high-end Kevlar canoe, being assured that this particular one was not prone to tipping over. We were cautioned that such a canoe is as fragile as eggshell and as light as a feather, which means do not bump it into rocks and do not ever leave it lying around the beach without tying it up lest the wind carry it off. These cautions turned out to be somewhat exaggerated.

Chris, Ken and Michael were waiting for us at the outfitters. After loading the canoe onto my car, we proceeded to the put-in point.

Since we were late, the loading of the canoes was rushed. I once sat down on the gunwale of my canoe, to be met with a loud creak and admonishments from my tripmates that this was a sure way to wreck it.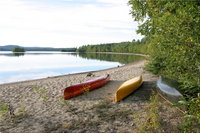 Canoes on the beach at the first campsite


Once finally in the water, we immediately passed through a shallow, rocky area in the Montreal River. The experienced canoeists, with Chris and Ken in a dual and Michael in a solo canoe, threaded their way through without trouble, but Lisa and I were met with many loud scraping noises as we bumped the rocks, all of which already had a silvery sheen from aluminum canoes doing the same thing. By now, panicked visions of a thousand dollars' rental surcharge for scratch repair were dancing in my head, and I thought, my God, what have I gotten myself into?

Fortunately the river soon turned deeper, and whatever shallows came were sandy. Thus, after a few hours' uneventful and soon enjoyable paddling, we arrived on Smoothwater Lake, which counter to its reputation really was smooth that day, and found our campsite next to the portage to Marina Lake.

The campsite was beautiful, with a beach, a babbling brook, and improvised log furniture. Lisa prepared the first night's dinner, which was vegetables in rice with cold meat on the side.

Map of today's route (also available without annotation). All pictures for this day.
---
Next / Table of Contents / All in one page / Outdoor & Travel Page / Markus's Home Page