We get up at 5am (that's 7am Ottawa time) and hit the road westward. We want to be in Canmore at the headquarters of the mountaineering school as soon as it opens, for me to get fitted with rental boots. When we arrive it is still pitch dark, so we find an open restaurant and eat breakfast. When that is finished, the sun is just rising.

We spot an interesting looking mountain pass, so we drive up that road. There is a reservoir partway up. Photographed at a low angle it looks like a large lake.

Here we are in the pass, which contains another reservoir. From the road we get interesting views of Canmore.

With rental boots acquired, we go on up the highway into Banff National Park. The weather does not look encouraging.

We read about a place called Lake O'Hara in the magazine on the plane. It looks like a neat place to go hiking for the rest of the day. But when we get there, it turns out that there is a quota for people who get to ride the shuttle bus in. There is no quota for just walking in, but that's an extra 12km each way. It is starting to rain too. Andrew says we should skip it and go on. I'm not too happy at this point.

The weather improves somewhat as we go on. We pass some hardy cyclists who are braving the rain and the thousand-foot ascents and descents. Andrew takes their picture and their email address so he can send it to them.

Here we have the Crow's Foot Glacier...

And a beautiful blue-green mountain lake. Mountain lakes are so colourful because of the nature of the meltwater from the glaciers. Apparently they contain very finely ground stone particles called "Rock Flour". When that settles out, the colour fades. Anyway it is beautiful.

At the boundary between Banff and Jasper National Parks, we ascend steeply to the approximately 6500ft altitude that we will be spending the next few days at.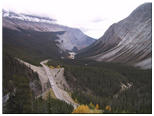 We pick the nicest spot in the (at this point) nearly empty Icefields Campground. It has a view of Mount Athabasca and the Athabasca Glacier right from our picnic table.