Friday, July 18
Beep Beep Beep! Andrew's travel alarm clock interrupts my sort-of-asleep state. Oh well, 4:30AM rise time it is, I wouldn't get back to sleep now anyway.

As I'm standing downstairs waiting for my turn in the shower, I look at the clock and it slowly registers - it says 3:50. What's happening here? Ooops! A "convenient" oversight. Gradually everyone is roused and showered, and mom gets up too and starts making breakfast - with bacon and eggs! for us. Even Barbara shows up to say hello to everyone.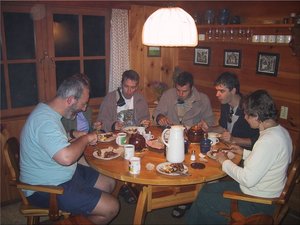 Predawn breakfast


By the time all the stuff is in the car, everyone has tried to take some pictures in the predawn twilight, goodbyes are said and so on, it is about 5:45AM and we're off.

I unwind by driving very fast on the curvy Gordon Lake Road. Ewart, who is riding with me, is not worried, and Andrew with the others in the minivan is keeping up effortlessly. By the time we're on the 638, I've already had my fill of speeding and reasonable driving resumes. When we get to highway 17, Andrew takes the lead in the van.

The others remark on the "big loonie" sculpture by the highway -- just yesterday they stopped by the big nickel in Sudbury to take pictures. I explain that it is here because the loon design on the coin was done by an artist who lives right here in Dunns Valley, which we just drove through.

Ewart is riding with me so the two non-Canadian Citizens are in the same car. A non-citizen often triggers a request for everyone's papers at the border, and Luc, in his travels, has been to "the whole Axis of Evil" (in his words - primarily Iran and Afghanistan) and if they check his passport they might give everyone trouble. It's to no avail, I see everyone's papers being handed over anyway. It takes several minutes for the van to be cleared. Ewart's and my papers are in order - meaning our I94Ws are current - so we get through with no trouble.

After an all too brief interval of speeding down a smooth freeway, we turn off to take a bit of a tour of the south shore of Lake Superior, which Marlene recommended most strenuously. It takes a long time before we turn north onto a highway that follows the shore, but we are foiled! A detour sign directs us onto a dirt road. And down this dirt road we speed, for 40 kilometres or so, which seems absolutely endless when you're in the rear vehicle without map or navigator. The road is bumpy, full of rocks, and is being graded so often there are big ridges of sand running along it. Just as I'm despairing of it (I'm thinking of taking a picture of these conditions to caption "the great drive out west") we finally get on pavement again and on we go, with no lake in sight.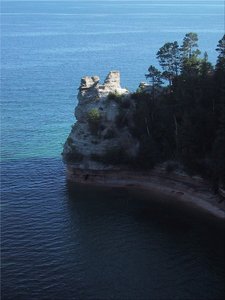 Miner's Castle


Finally, we arrive at Pictured Rocks National Lakeshore, and, hmm, I think the detour and dirt road was actually worth it. It is cool and crisp, we are practically by ourselves, and the view is spectacular. Against regulations I climb onto a rock spire called "Miner's Castle" - to fall off would be instant death as the water is hundreds of feet below - and get Andrew to photograph me there. I am careful not to cause additional wear on the formation as I clamber up and down.
Caroline and Peter on Miner's Beach


We now drive down to Miner's Beach. I take my shoes off and leave them before going on the sand and, with the (cold) waves and wet sand caressing my bare feet, I think there ought to be a law that all highway rest stops should be equipped with one of these. We walk a good section of beach, watch a group of kayakers preparing to set off and explore a small river outlet. It is so lovely here. Who needs ocean beaches? And I can say that, because I've at least had a chance to go bathing in the Atlantic at Cape Hatteras and dip my feet in the Pacific. Too bad this area is just a little bit remote from my parents' place because it would be very nice to camp out here and veg for a weekend. Unfortunately camping is not permitted in the beautiful open woods by the beach.

After we leave this area, the drive is unremarkable other than being a good impression of life before Interstate highways. We need to get west to Duluth, MN and that's hundreds of kilometres away as the crow flies and it's all non-freeway travel. It varies from relatively empty two-lanes where we easily make 120km/h to urban corridor where one town, with its fast food joints, gas stations and car dealerships, seems to abut the next.

We eventually end up on a quiet two-lane road with virtually no traffic and manage a very good speed on it. Eventually we join Highway 2 at a town called Wakefield. After we fill up on Kentucky Fried Chicken and pizza, a car shuffle is done, and I am assigned to drive the van. Ewart takes the lead in my car. This is not a good arrangement. Traffic on the highway is very heavy and generally moving at 90km/h (the speed limit). Ewart muscles his way ahead using the adequate passing power of my car, whereas I'm driving this minivan which seems to float through the scenery, with steering, accelerator and brake input just applying a general bias to where it floats. I can't believe Andrew can make it keep up with my car when I drive it at the hardest, but such is the difference in our skill levels. I get very stressed and cranky, as Luc attempts to feed jazz music into the car's stereo using a little radio transmitter we have brought, but the tuning continually drifts so it's mostly hiss, plus I'm trying to eat pizza, plus I'm trying to keep up with Ewart's passing maneuvers and I'm getting ribbed about it all by everyone.

Fortunately Luc gives up on the music, the food is eaten and a quieter stretch of highway reached. Also I'm introduced to what remains of Caroline's unbelievably good white chocolate fudge! I am shameless and eat up most of what's left. Yum-my! This after Andrew and I already demolished a good portion of her equally delicious hard toffee.

After a long drive, we reach Duluth. This is the western end of the Great Lakes system and thus has extensive harbour and rail facilities. We find a scenic overlook on a hillside and take in the panorama.

Andrew now drives, and we head south on Interstate 35 at a good clip. We get off soon, to go diagonally across country to I94 on country roads. These aren't too bad. Stopped for gas and munchies, we go into a Radio Shack to see about a cassette adapter to better feed audio from the laptop computer into the van's stereo. Instead we find a better radio transmitter gadget! This one has fixed frequencies instead of analog tuning, and thus doesn't drift, and works perfectly. I immediately go in and buy a second one to keep for myself, as I'm not sure the Canadian Radio Shack would have them (I later check, and they don't).

Regaled by a recorded CBC Ideas episode about famous impostors, we motor on. The idea is to go northwest on I94 and then west, eventually to cross country south to I90. But seeing how slowly the little arrow creeps along the interstate when zoomed out, we change our minds, and head off cross-country again -- incidentally at exactly the bearing toward Yellowstone National Park (253 degrees) until we intersect I29 which goes south to I90.

We stop at the edge of a flat river valley but not for long, as we get attacked with such ferocity by mosquitoes that I immediately understand what it is the Winnipegers always talk about.

Ewart and Caroline are in my car, and happy to continue driving it even though its air conditioning has conked out again and it is quite hot.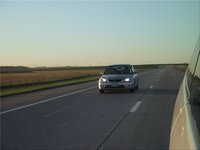 Speeding down I29


The drive down I29 is very nice. The country is flat, the road straight and level as far as the eye can see, and there is no traffic in our direction. And the speed limit is 75mph. This is all so alien it's hard to believe we drove here in one day from Amogla Camp. I lean out the window at 120km/h to take pictures of the other car in motion against the sunset, and almost lose my prescription sunglasses as they are ripped off my face by the wind, but fortunately catch on something. I have to hold the camera with both hands.

The land is obviously all farmed, with lots of corn, some grazing and some haying. But you can go for 10 minutes or more at freeway speed and not see a building. This is big country. I still can't believe this perfect, smooth, quiet concrete freeway (it doesn't even have bumps between sections of concrete) - we're just gliding along at a great (and legal) speed and we can see (once we go up a sort of escarpment to a higher level of land) as far as the haze allows over flat country. There's no point trying to get this in a picture though. Luc, having put up with CBC Ideas, and two CDs from Peter (one Peter Gabriel, and one Led Zeppelin) now plays some jazz, but picks some that even Peter and I find quite relaxing and listenable so there is harmony in the car. Especially since we stopped at a store and stocked up on chocolate milk and edibles.
Looking for camping


We have 250km to go south before we finally turn west once and for all. We won't make it before dark, so we pull off at Watertown where highway 212 crosses. Searching for potential camping on the map on the laptop, I've found innumerable "State Shooting Areas" but no camping. But here there is a State Park. It turns out to have no camping, but further down the shore of Lake Kampeska there is a campground. It says "full" but Andrew talks to the guy and for $30 it turns out we can have a spot that is free after all (actually, I don't think this is a real campsite, but we're not complaining).

The spot is quite nice, on the edge of the lake. After we set up, I go for a short swim, and the water temperature is wonderful.

My trip odometer shows 40,114km, so in a day and a half of driving we have covered 2,113km. Not bad really. Tomorrow we should reach the first of our actual trip destinations.
---
Next / Previous / Table of Contents / All in one page / Outdoor & Travel Page / Markus's Home Page