I get to drive for a while. The road is very scenic in the morning light, in places it reminds me of the Blue Ridge Parkway in North Carolina. But we have places to go, so there is no time for scenic photo stops, except for one in a sort of gravel pit by the side of the road...

Stopped for some supplies in Wickieup, we see roadrunners. These are birds which, you guessed it, run around on the road. Even the urban ones are quite skittish. The picture is the best I could do with the limited zoom range of my camera.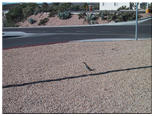 Here we are at Vulture Peak, which you can see behind the cars in the first photo.
The mickey-mouse ear cactus, uh, I mean Prickly Pear, is ubiquitous all over Arizona
Since it is springtime, the desert is in full bloom. Bees are buzzing around, birds are singing. Later in the summer it will be much less lively here.
The descent from the summit is considered difficult by the less experienced hikers in our group.
Vulture Peak recedes in the distance as we drive back out to Wickieup and the main highway. It is at this stop that the laptop computer gets dropped onto the floor of the car, jarring loose whatever bad connection had caused it to be flaky in the past. After this point it will only boot if it is held slightly twisted until the Windows cursor comes up.