Angels Landing Hike
The following pictures are all from PeterG since I was not on that hike.

Just as Zion is a scenic jewel of the southwest, so Angels Landing is the scenic jewel of Zion. It's a 2000ft high spire sticking out of the canyon floor, with an easy but spectacular hike to the top and a really fine view of the valley from the summit. It's worth going there every time you are in the neighbourhood.

Seen from below on the way up...

This is where it starts to get interesting. Bob and Lorraine opted out at this point.

Looking up at Observation Point. PeterK and I are watching from there. We're almost visible as a couple of fuzzy pixels a little to the right of the highest point.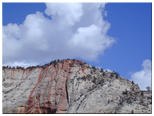 The really interesting bit. There's a vertical cliff on either side of this ridge.