Around Zabriskie Point
You don't actually have to hike to go to Zabriskie Point as it's just a turnoff from highway 190. But we started inside the valley and hiked up there.

At the trailhead. As usual, a glance toward Telescope Peak (the leftmost of three snow-covered peaks visible here).

We go up the aptly named Golden Canyon.

The feature in the background is Manly Beacon. Jody wished he had a flashlight along, so he could pose as a "Manly Beacon" too.

How's this for a real classic Death Valley view - the salt flats, visible through the hills of the badlands, and hardly a living thing to be seen (OK, ignore the shrubs in the valley).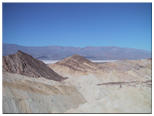 Onward...
We start seeing holes in the hillsides where mining has gone on in the past. I don't know what they mined for (not Borax - we get to that later).
Zabriskie Point in sight...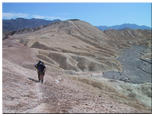 Views from Zabriskie Point. I neglected to take a readable picture of the sign. Zabriskie was an important figure in the mining days.
Hiking back out, through another gulch whose name I don't remember.
Back out in the main valley. I'm starting to feel really run down and the rest of the walk is a real slog. I think I got overheated and dehydrated. A liter of water and 15 minutes in the air conditioned car later I feel better again.