The Big Telescope Peak Hike
Friday, March 30
Not a good start: I have had almost no sleep. I blame this on a presumably love-starved owl, which has gone "hoot, hoot, hoot" at 2-second intervals through the entire night. I got up at one point and walked around trying to localize the noise, but could not. Fortunately I know from one other experience that one night of sleep deprivation does not greatly affect my ability to walk up a mountain. Anyway, get-up time was 3AM. Here it is 4AM and we are still eating breakfast.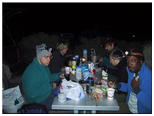 Day is just breaking when we arrive at the charcoal kilns. We are stopped because there are toilets here. Then we proceed up to Thorndike Campground and try to park the vehicles out of the way. The toilet there gets used too. Meanwhile the sun is rising.
6AM and we're ready to march, all kitted out in our winter mountain gear! Because we've got so much neat stuff, I get a back view of everyone too.
The real trailhead at Mahogany Flat. We had to slog for an hour through still-firm snow to get here. Seven miles to the summit from here.
On the northeast-facing portions of the trail going around Rogers Peak, we encounter snowfields. PeterG, who has had some mountaineering experience, wants to make sure we have an idea how to use our ice axes in case we slip and go sliding. I'm not greatly worried because the snow is not that hard. Jody, ever the good sport, immediately puts Peter's lesson to the test. Meanwhile, Andrew and Lorraine have fallen behind.
Andrew and Lorraine are with us again! All is well.
On the southeast side of Rogers Peak we get clear trail.
Our target comes into sight!
We have reached the saddle between Rogers and Bennett Peak. Most of our group decides that they won't go any further than Bennett, so we all go up there for a start.
We find a spot that's not so windy just off the summit of Bennett Peak and eat some snacks and figure out what to do.
It is decided that PeterG will stay here and then head back, whereas the rest of us will continue -- for now.
When it becomes clear that the Telescope Peak summit is still two miles and 1500ft of elevation away, and all the rest of the way is over snow, Bob, Jody and Lorraine call it quits. Andrew, PeterK and I test the snow, find that we can walk on it if we tread carefully, and continue on. I'm starting to feel weaker so I drop my pack and go on with just my ice axe.
The contrast between the wintery environment up here and the hot parched valley just below is great. It is a long slog up the mountain. I'm getting weaker and I'm generally behind. The snow still mostly carries, I think we only break in about one step out of twenty, and on the really steep north facing stuff we can efficiently kick-step our way straight up.
Our leader Andrew is approaching the summit...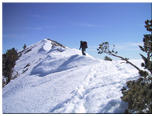 We made it!! Eight and a half hours since the group picture by the cars. I still have the energy to wave my ice axe in triumph and to take some summit photos. We are so warmly dressed because there is a very strong wind up here.
We only stay about 15 minutes. We have about 3.5 hours daylight left and twelve kilometres to walk back to the cars.
The rest of the hike is not pretty. The lack of sleep, thin air and dehydration (I never drink enough at high altitude, just can't stand the taste of liquid there for some reason) has caught up to me. We have to walk downhill over snow now, and this makes it harder to step gingerly, and the snow has softened, so we break in all the time.
It is decided to go over Bennett Peak again, instead of skirting around it. Those 500ft of elevation take me at least half an hour. Andrew and PeterK wait for me, looking for Bob's lost sunglasses in the spot where we all sat earlier (much later Bob finds them in his jacket!). Then more snow on the north side of Bennett Peak, and more snow, and miles of trail, and more snow and more miles of trail -- I'm slogging along in pain, it is pure hell -- and then darkness overtakes us and we still have the kilometer to go on the road, except the snow is all soft and doesn't carry at all any more. I walk and walk. It is the hardest "hike out" I've ever done, and I've never liked long hikes out. Finally I reach the cars, long after the others.
Back at the camp there are still things to do, but I skip dinner and go straight into my tent. Off my feet at last!! I drift in and out of consciousness, unbothered by the continuing "hoot, hoot", unbothered by some noisy campers in the next spot over whom Lorraine has to go and tell to shut up. Oh what bliss, not to be walking any more.
Was it worth it? Of course!! This hike was so hard, it had the Grand Canyon beat hollow! 15 miles walk with 5500ft total vertical, with lowest elevation 7600ft. The Grand Canyon hike out was only 11 miles with highest elevation 6800ft, and it was all on solid ground, not a third through deep snow. Man!! If I'd known it would be this hard I'd have ducked out like the others. So I'm glad I didn't know.
Andrew said it would have been MUCH easier if we had snowshoes. Never enough gear.