Just who is this

Markus Wandel

anyway
Well, originally I'm from near a place called Wangen im Allgäu in the state of Baden-Württemberg in south Germany. I was born on February 22, 1967 in this house, and from our little hill we had a beautiful view of the Alps, just part of which you can see in the picture on the right.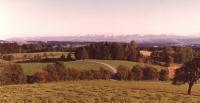 We had a dairy farm, but by 1980 my dad saw the writing on the wall for the dairy farm business and also at age 47 he had a bit of a late mid-life crisis, so we emigrated to Canada. That was a pretty drastic thing because where I come from a lot of people of my parents' generation spend their whole life living in the same house, and dairy farmers don't get to travel much because cows don't take vacations from giving milk. Also, we left behind a large extended family.
In Canada we settled down near Sault Ste. Marie. My parents rebuilt a run-down old tourist camp with brand-new cottages, and in the offseason my dad makes custom furniture. We kids -- I have one brother and two sisters, all younger -- had no problem with the move because the high school provided an environment in which we all flourished in our own way. I discovered computers there.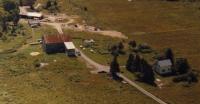 To the left you can see an aerial picture of the place we moved to in this country. In the back the sawmill that provided most of the lumber for the camp and the furniture. Then there is the barn, which unfortunately burned down with all my dad's shop equipment and a lifetime's supply of lumber in it, and the house, which has also been rebuilt since although not for any disastrous reason.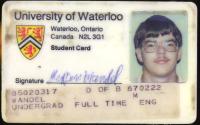 I went to the University of Waterloo in 1985 to watch TV and play with computers and slack off a lot, uh, I mean to study Computer Engineering. I didn't go to classes much and did most of my learning in panicked cram sessions before the midterms and finals. Being what I am this didn't stop me from acing the computer courses and thus getting a decent graduating average, but a bachelor's degree was quite enough for me.
Engineering at Waterloo is a co-op program, which means you alternate 4-month terms of study with 4-month work terms. I had two work terms at IBM in Toronto, two at DY4 in Ottawa, and two at Bell-Northern Research. On graduation in 1990 I immediately accepted fulltime employment at BNR, and I'm still there, except the place is now called Nortel Networks, at least at the moment.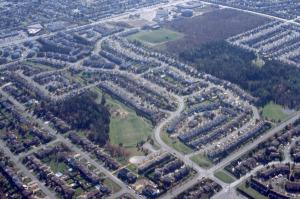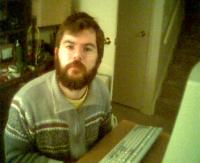 I share a house in Kanata with another bachelor. He owns it, and I pay rent. It's a pretty good arrangement. I'm not sorry to be this far away from downtown because I don't go out much anyway.
Outside work, I engage in sequential hobbies. Because of the way I am I get very excited about something, learn all there is to learn about it, and then after about two years I get bored and move on to something else. Hobbies that I've gotten excited about include photography, bicycles, physical fitness, automobiles, baking, travel, skiing, and as I write this I spend most of my time playing with my new computer.