Friday, July 25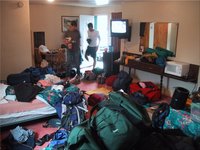 Organizing our stuff


It is now drizzling steadily, which brings gladness to the heart of Montanans, who have had no rain for a couple of months according to the motel proprietor. After breakfast, at Perkins again, we take off north on Interstate 15, Andrew driving my car and relegating me to the navigator (i.e. stare at the moving map display on the laptop) position. For an interstate highway, this one is very twisty and scenic as it winds its way through a canyon, so much so that Andrew is actually enjoying driving it in a twisty road sense. Certainly more interstate highways could use scenery like this.

We amuse ourselves by testing out the range of the radio transmitter thingy that Luc is using to play CDs in the van (which does not have a CD player). I walk Luc through turning on the laptop's microphone so we can actually hear sounds from the van too.

We turn off the interstate on highway 287 and head northwest. A sign says Glacier National Park is 155 miles away. The landscape gradually changes - the hills become less pronounced, then just rolling, the vegetation changes to prairie grass, and eventually it becomes mostly flat. We blast along the two-lane at typical speeds of 120-140km/h, seeing almost no other traffic, the pavement perfect for mile after mile, even though the population density is so low that often you can see no dwellings at all. Once we reach 190km/h but once again the straight stretch is a bit too short to see what speed my car actually tops out at - probably about 200km/h or just below.

We've been driving first in drizzle, then under solid grey cloud, but as we near Glacier National Park, the clouds stay behind us and we have clear blue sky again.

It is evident right away that there is some major spectacular scenery here, but it is very hazy, due to several forest fires burning in the park. For this reason the main highway trough it, the "Going to the Sun Road" is closed at the pass. There is still plenty of nice potential hiking on the open east side, and even in the low evening light with all the haze the scenery is beautiful.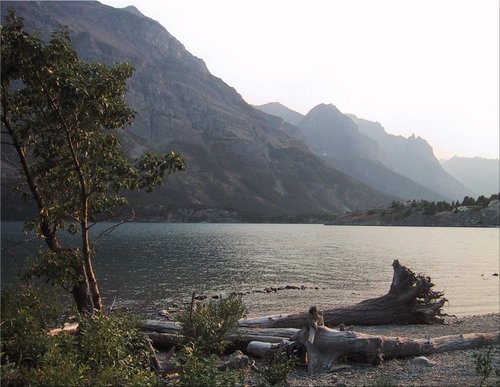 Hazy but nice scenery in Glacier National Park
We sit around at the campground, where we got the last two spots, which aren't very good but at least we got them (a few minutes later they would have been gone too). Someone has bought a pack of 1.5 pint beer cans and I am peer pressured into drinking a whole one ("at least this means you have peers" quips Peter). It does give a pleasing mellowness for a normally high-strung nondrinker like me, even though I hate the taste (that's why I don't drink). Luc regales us with tales of his incredible adventures all over the world, with some suspecting that such stories could only be made up, but we question him aggressively and all the facts cross-check, and besides he has beautiful photos to show.
Finally we go up the road to the pass and take lots of pictures up there and on the way back. Many nice mountains here, not hard to climb and with spectacular views. I could imagine spending at least a week in this place and not getting bored.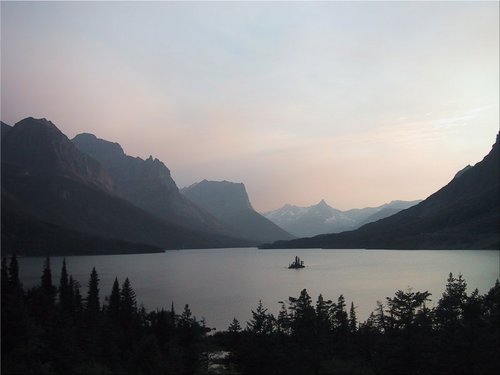 Goose Island Overlook
Later, as we're getting dinner ready - and I just have to record this - we're looking at the dehydrated bits of chicken in Andrew's Alpine Aire dinner, and Luc wants to taste one. "Can I hydrate one of your chunks?" he asks. I think this is the pickup line of the century - can you just imagine walking up to someone in a bar and asking "Baby, can I hydrate your chunks?" Heh heh.
---
Next / Previous / Table of Contents / All in one page / Outdoor & Travel Page / Markus's Home Page