Saturday, July 26
The day dawns kind of cloudy, and nobody seems to have much energy. Luc is feeling sick, and Ewart is not yet in any shape for a tough hike, so it's only Andrew, Caroline, Peter and I who prepare to go for a hike. The choice is Bear Hat or Mount Reynolds. Having seen Reynolds, I've gotten all fixated on it and express this as my preference. We end up going there, but first we drop Luc off at the campground store, and Peter there decides that he's also not feeling well and stays behind.

Peter: The first hike was Mt. Reynolds. Which I did get ready for, but when at the store to get food, I realized how crappy I felt and decided the day would be better spent near a bathroom (beer or illness?). Luc was in the same situation and Ewart was not yet ready for any serious hike, so this day only Andrew, Caroline and Markus went for a hike, while the rest of took it easy.

We're in my car, having moved all the stuff from it to the van, so that the non-hikers have the use of it and all the stuff in it. To this end, I've also lent Ewart my driver's licence and National Parks pass, so they can get in and out of the park unimpeded.

We drive up to the pass in gloomy but fairly clear weather - it seems some drizzly rain in the morning has knocked the smoke out of the atmosphere. No sooner up there, than Caroline finds she's forgotten her waterproof jacket, so Andrew and she drive back down to get it, while I hang around the visitor center up there, admiring its open, airy 1960s architecture, and how it all runs without external electricity supply (thus huge windows giving views of the mountains, and no lights).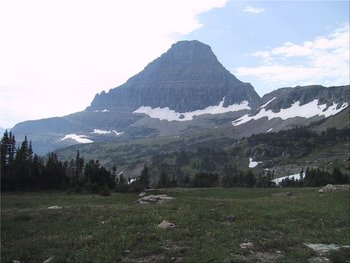 Mt. Reynolds


It starts raining. This causes considerable rejoicing among the rangers and staff, because it will help against the forest fires. It doesn't make for very appealing hiking weather though.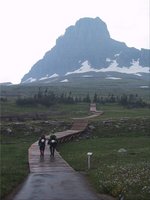 On the boardwalk


Andrew and Caroline return, and we suit up for the hike. It is about 13°C and drizzling, and a bit hazy too, but somehow the atmosphere is still appealing, with all the alpine meadows and mountains all around, and we begin our hike in good spirits. The first kilometer or so is all on raised wooden boardwalks to keep the masses of "Reebok hikers" off the alpine meadows, which are in full bloom and very nice.

We turn off the main trail towards the mountain. There are a few snowfields to cross, so, mindful of the experience on Teewinot, we unstrap our ice axes for each one.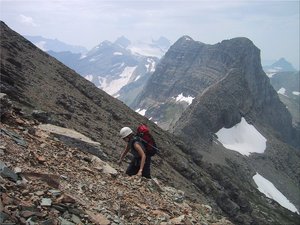 Caroline climbing the scree slope


Mount Reynolds is a glacial horn, which means steep, flattish sides and fairly sharp corners. It consists entirely of layers of sedimentary rock of varying colour, hardness and thickness, so everything is covered in loose scree, which is interestingly multicoloured. We begin the hike on a firm path traversing scree slopes. Then we climb up a couloir, which has a scree slope in it, so we gain height mostly by clambering up the jagged rock on the left side.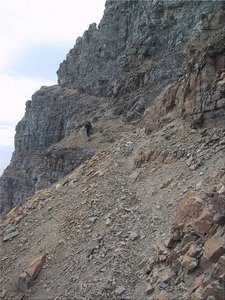 The scary traverse


We reach a plateau and rest. Then we must ascend over a scree slope, which is work, because every step forward can cause you to backslide some amount from nothing to about half a step's worth. You aim for the biggest pieces of loose rock, or the occasional outcropping of the actual mountain, where you won't slide.

Eventually we reach a higher plateau. Andrew consults the route description in his guidebook. It is now time to go across the slanting traverse along the steep north face of the mountain. From a distance, it looks like a regular shelf that won't be hard to walk on. Up close, it is narrow and precipitous, and covered in loose rock. There is a well-established path there, along which we very carefully pick our way. Lose your balance toward the left, or misstep in a serious way, and you're done for. At the start of the traverse, I'm unafraid and think, this would be a good cure for people uneasy with traverse paths on steep/loose slopes. By the end of the traverse, I'm uneasy myself. Imagine panicking in the middle of this thing if the height and exposure get to you. You'd be stuck. We later find out that the leading cause of death among mountain goats is falling off places just like this.

In somewhat less scary but still precarious conditions we make our way along another face of the mountain, and eventually reach a scree slope going further up. This we ascend. Andrew's guidebook is much consulted, and then we find a series of cairns showing the way, as we clamber up stratum after stratum of this mountain, eventually traverse again until we've done a full circuit of the mountain from where we started, and finally see the well-marked way to the summit.

The total elevation gain is only about 2400ft to the 9100ft summit. We took about the hardest route up there, and took five and a half hours from the parking lot at the visitor center. The view is spectacular, despite the growing haze from the forest fires, and the weather is once again sunny, hot and windy.

There is a summit cache. We pass the time reading the log entries, adding one of our own, eating the summit cookies that Andrew has brought, and listening to some other hikers on our FRS walkie-talkies. We eventually, by trial and error, find out that they are using squelch code 5, so we dial that in and transmit to them. A conversation results. They are on Siyeh pass, about 6 kilometres away, line of sight, which far exceeds the FRS radios' advertised maximum range of 3.2km.

The way down goes quickly, since we skip the circuit of the mountain and just take the "normal" way down. Scree slopes that are tough on the way up are trivial on the way down, just slide with each plunging step, but wear gloves in case you lose your balance and fall. We find a series of cairns clearly marking the way down, and the hike back to the car takes just over two hours.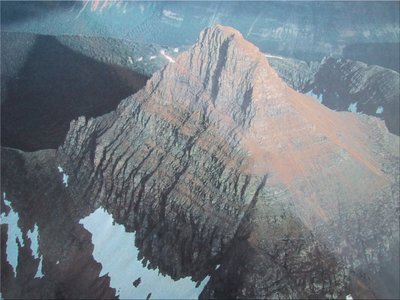 Aerial view of Mt. Reynolds
(photographed off a display at the visitor center)
A very pleasant and satisfying hike, and our second summit of this trip, and spectacular like the first one. Too bad only half the group could make it.
When we get back to the campground, Andrew and Caroline buy hot dogs, buns and fixin's and offer the cooked dogs around. I score two. Other than that I mostly just sit around listless and mellow, since it has been such a satisfying day and I am now dead tired, since I didn't sleep well the night before.
---
Next / Previous / Table of Contents / All in one page / Outdoor & Travel Page / Markus's Home Page