Saturday, August 2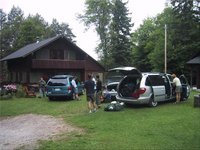 Packing Up


Wanting to help with the chores, I get the red riding lawn mower out and begin to mow, but it soon breaks down. Before I can fix it, all my guests are up and seen loading up the van. So Matthias and I drive up to the farm with them. On the way there we stop by the liquor store in Bruce Mines, where another liquid gift is purchased - this time Bailey's Irish Cream because mom likes that and dad doesn't (last time it was whiskey, guess who drinks that). Then we have a thorough tour of the farm. And so we part ways, with Andrew and company heading off to Ottawa, and Matthias and me going back to the camp.

We have a very good lunch and I eat three helpings of ice cream afterward. This finally releases the latent tiredness and I spend most of the afternoon just lying about dozing.

[Two days later]

Driving the 700km back to my place in Ottawa doesn't seem such a big deal after so much time on the road. I arrive, unload and get right to work on stuff without any of the usual "wow, back from a big trip" feeling.

My car's odometer has accumulated 9,854 kilometres on this trip.

Ewart: Many thanks Andrew for having organised the trip - I am certainly game for another such trip, but in the Autumn next time so as to cut down on the bug menace. Hopefully my case of bad butt did not spoil the vacation for others - I tried to ensure that the vacation proceeded to plan as much as possible given the circumstances. Finally, thanks to all for having being there for me on Teewinot - I know I make a lousy patient.
---
Previous / Table of Contents / All in one page / Outdoor & Travel Page / Markus's Home Page