Sunday, July 27
It dawns sunny and apparently clearer than yesterday, with a south wind. We break camp and pack everything into the vehicles, then drive up the road to hike Pollock Mountain. We do this by going straight up the mountain from the nearest available parking, then hiking out through Piegan Pass and the trail to Siyeh Bend. Ewart, who is ready for a hike but not a steep mountain, begins the hike from the opposite direction to see how far he will get.
Our ascent route up Pollock Mountain
The ascent is very steep - 50% slope (3000 feet in 2 kilometres) with no switchbacks. Quite a bit is over talus. We encounter a group of big-horn sheep who let us approach fairly closely before lumbering off.
When we reach the saddle between Pollock and Piegan Mountain, we establish radio contact with Ewart, but can't see him on the trail.
To overcome the upper cliffs on the mountain, we have to follow some directions in Andrew's guidebook precisely - go around this side until you see such a pinnacle, then count off 112 steps... eventually we arrive at a narrow "chimney" that is readily climbable, though I don't feel completely comfortable about being able to downclimb it again.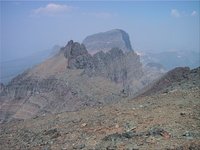 Bishop's Cap from Pollock Mountain


Looking at the map, and also the view yesterday from Mt. Reynolds, I wanted to just amble over on the ridge and bag the "Bishop's Cap" (a neat adjacent summit) as well, but seeing the actual traverse now I give up all such thoughts - it would take all afternoon and probably involve risky climbing.

On the way back down the chimney, first I dislodge a rock that crashes down and narrowly misses the others, then I have a tough time downclimbing it. Not good.

Peter: During the decent, I verbally lost my temper when Markus loosed a large boulder down the chimney and only luck prevented injury. With recent events my nerves were getting more and more frayed. The rest of the decent to the saddle was uneventful. Eventually it was decided that the rest of use would go down to Ewart (who was hiking the meadow trails), while Andrew and Luc would go for a quick ascent of Piegan.

We go back to the saddle. Andrew and Luc (who isn't feeling sick any more) want to go up the adjacent Piegan Mountain. From this angle it doesn't look very interesting, and I'm a bit tired, so I join Caroline and Peter in going down the enormous slope down to the pass where Ewart is, while Andrew and Luc go up to the summit.

Ewart indicates his position with flashes from a signaling mirror. It takes surprisingly long to get down there even though it all looks like a flat, easy slope.

Soon after we reach Ewart, we start the 7km hike out. We are well along when Andrew and Luc leave the summit. We stay in radio contact with them from then on, monitoring the closing gap between them, who are going very fast to catch up, and us.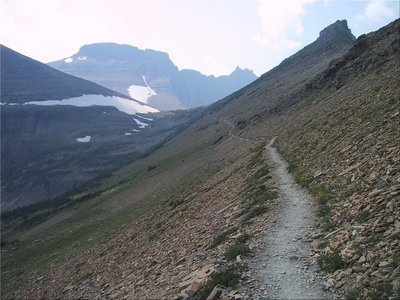 Trail from Piegan Pass, Pollock Mtn. in the background


The trail goes along open talus slope for a while, then enters the woods, where there are spectacularly scenic meadows full of wildflowers. We stop for many photographs.

I radio various waypoints to Andrew - a creek crossing, a bridge, an avalanche scar, a big rock by the trailside - and it takes progressively less long for them to reach them behind us. 2.5km from the trailhead they overtake us. I have been walking at less than my natural pace, and want to unwind, so I go with them, but only for a few minutes, as they are walking at about 6.5km/h which for me is not sustainable, so I soon toss them the car keys and fall behind again.

At this point, we are directly below the steep side of Piegan Mountain, which looks extremely spectacular and rugged from here and has a glacier on it besides. I have mixed feelings about not having done it now - it would have been a nice summit (better than Pollock Mountain) but the fast hike out would have really hurt.

Ewart: After two full days of complete rest following the accident, I felt capable of doing some walking, but nothing steep. Andrew suggests a hike up to Piegan pass, returning via the same route. The contour lines on the map show a gentle slope, and the path goes substantially through Alpine meadows. I decide to give it a go - if it is too much, I can always return back to the trailhead and wait in the car for the others to return. The hike up the path is indeed very beautiful, with all the flowers in full bloom. I take numerous photos (Luc also has a Nikon camera, and so lent me one of his spare lenses for the remainder of the trip - thanks Luc!). Unfortunately, the roll of film with these photos is still in my camera and will probably not be developed for some weeks yet, too late to be included in this trip log.

When I get to the pass, I ascend some ways up to the saddle between Piegan and Pollock with a view to getting some photos of the valley running due north. It is here that I make visual and audio contact with Andrew & Markus atop Pollock mountain. I then descend down to the pass, where I have left my backpack, as there are marmots about and I don't want them to gnaw at it. Once at the pass, I head toward a nearby snowfield so that I can rest and tank up with melt-water. Whilst doing so, high above I see a group of mountain goats descending from Piegan onto the snowfield, frolicking their way down like little kids - even the parents! As the others make their descent to the saddle, I get up and work my way to a place where I can be seen. However, something is afoot - I have a pain right at the bottom of my spine, and walking is not comfortable.

Once Markus, Peter and Caroline have reached the pass, we gingerly start our descent back to the trailhead - we leave Andrew and Luc to catch up in due course, which should not be too difficult given the slow pace I am setting. The last 2 miles of the hike are a killer, and I am concerned that there is something seriously wrong with my back. On reaching the trailhead, I inform Andrew that I need to go to the nearest A & E centre once we cross over into Canada. I am sat in the van, but as we proceed to exit the park enroute to Canada, the pain is too great and I request to lie on my stomach in the back so as to get all the pressure off my back. This, embarrassingly, becomes my mode of transit for pretty much the remainder of the trip, the Dodge caravan effectively turned into a semi-hygienic ambulance with F1 drivers! I also know that there will be no more hiking for me this trip.

Peter: We met up with Ewart on the trail below and took a few pictures and then began our slow hike out. We made our way through lovely alpine meadows covered in multi-coloured flowers, to the tree line with strong pine scents, to babbling stream crossings. When Luc and Andrew caught us they continued on to get the cars with Markus, while Caroline and myself paced Ewart out. It was clear he had over-exerted himself in his condition and he was moving slower as time passed. He was in much worse shape than on his hike out of Teewinot after his injuries. We took his gear, but this seemed to make little difference, we settled in for the slow grind out.

This hike also seemed to be an over-exertion for my knee, what had previously been painful only in certain situations turned into a constant ache regardless of activity. This was my last planned hike before my plane out, so the timing of my exit worked out very well.

Andrew and Luc have nearly finished fetching the van from the hike start point when I arrive at Siyeh Bend. We then wait for the others, who take a while to get there, because the 14km hike was still too much for Ewart and he is walking along in visible pain.

Ewart needs to get checked out by a doctor, so we drive straight to Lethbridge, Alberta (over the smallest, most rural border crossing I've seen yet). To make it easier on his bruised behind, the van has been rearranged with my air mattress on top of a bed of duffel bags, so Ewart can lie on his stomach. This arrangement will continue for the next four thousand kilometres or so.

At the hospital we find no one waiting in admissions, so he is seen right away. No serious harm done, the hike was just too much for his present condition.

Ewart: On crossing over into Canada, we make for Lethbridge which is a nice university town with a hospital. On entering the A & E facility, I am led to a receptionist who starts to take some details. She offers me a seat - "I'd rather not thanks - it is one of the reasons I am here". I get checked out - the doctor confirms nothing broken, and no back damage, just very bad bruising that will take 2-3 weeks to subside. He issues me with a prescription for more powerful pain killers, but I decide not to take them.

We eat dinner at a Montana's, and then find a very reasonably priced hotel to spend the night. We also telephone with Renato's brother Tony, who lives in Calgary and offers to put us up for the next night.
---
Next / Previous / Table of Contents / All in one page / Outdoor & Travel Page / Markus's Home Page