Monday, July 28
We begin our day in no great rush at the hotel.

Lethbridge is a classic western prairie town - wide, straight streets in an X-Y grid, flat, modern, prosperous looking.

With no breakfast (this causes me concern since I am hungry) we hit the road to Calgary. I grab a chicken club sandwich and a liter of chocolate milk (breakfast of champions!!) at a convenience store later.

We motor through the flat farm landscape, and remark on the efficient simplicity of the highways - 110km/h speed limit, four lane divided highway, but not limited access.

We get into Calgary, and note that it is just after 12 - lunch hour. The traffic is heavy. I try to call Tony but have no success. We decide to just go to Mountain Equipment Co-op and hang out there until I get a hold of Tony. While there I try on some hiking boots but can't decide (if I bought them here, I would save the sales tax). Finally I get through to Tony, and he gives me the address of where he works. We go there and pick up the key, and two pages of helpful instructions he has written out. Thus armed we proceed to his condo building, where we can park in an underground visitor parking area.

Tony has had this condo for years, but I've never been here. We're all impressed by how nice and convenient everything is! To top it all off, Tony has left food and instructions for its preparation!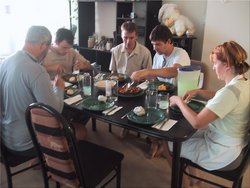 Dinner


We spend a lazy afternoon sitting around, catching up on email, and doing laundry. I have my eye on Tony's old road bike, hanging on hooks in the laundry room with its tires uninflated, to maybe go for a ride after dinner.

Caroline, who is not having a lazy afternoon, takes over the kitchen and prepares dinner. It is very good - grilled chicken breast, potatoes, peas, cauliflower in cheese sauce, all supplied by Tony.

After dinner, Andrew, Caroline and Peter want to go out to a movie and check movie listings on the internet. They decide on "Pirates of the Caribbean". I want to ride the bike, but Tony mentions that one of the inner tubes is punctured. But I don't give up so easily, so I drive down to MEC to buy bike repair supplies. Luc and Ewart also come, to shop for breakfast supplies at an adjacent grocery store.

It takes me a while to get the bike going, because the old pump does not work too well. Eventually it is OK, except for excessive play in the rear wheel bearings, which I can't fix because I don't have any cone wrenches.
Downtown Calgary from near Tony's place
Tony has suggested a nearby hillside across the river as having a good view of downtown, so I go there first. From there, I ride along the ridge, and then I spy some radio towers in the distance on another ridge and decide to go there. Unfamiliar with the area, I mostly miss the bike paths and ride on major highways.
I ride as far as the Calgary Olympic Park. I want to get up on top of the ridge along whose slope the Olympic Park is constructed, but the only way up is a road through the park itself, and that is private. I ask nicely at the booth, and the girl looks up and down the road, then shrugs and waves me through.
It is a tough climb to the top even though the road has switchbacks - harder than Pink Lake back home. I constantly see downhill mountain bikers, transported up by the ski lift, ride down on dirt trails. By the time I'm at the top, the sun is setting and I'm a long way from downtown now. I ask some people I see how to get back downtown. "Oh, just along this street and left on Bow Trail". So I do this. I was hoping to get a sunset lit view of the downtown skyline, but it is too late, the sun has set.
Bow Trail is a very busy highway, limited access in places, but I'm out of time so that's how I ride. I find my way back to Tony's place just as it is getting dark.
In the evening I show Tony some pictures from the trip, and then we soon hit the sack - literally - spread out all over Tony's place in sleeping bags.
---
Next / Previous / Table of Contents / All in one page / Outdoor & Travel Page / Markus's Home Page